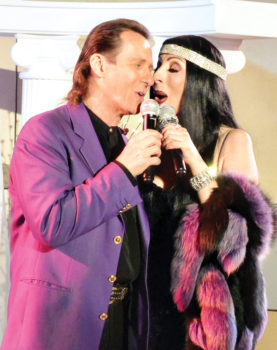 The Cher and Bill Medley Tribute will be on Wednesday, August 15, 2018. A cash bar is available at 6:00 p.m. with showtime at 7:00 p.m. in the Madera Clubhouse Crystal Ballroom. Tickets are $23. The show is produced by TAD Management.
You will have the Time of Your Life, when Cher and Bill Medley hit the stage! Two music icons on one stage for a night of music and memories not to be missed!
Join Gene Sironen, as he sings such iconic Bill Medley songs as You've Lost That Lovin' Feeling, which beat out the Beatles' Yesterday for the most played song on the radio, and I've Had The Time of My Life from the cult-classic Dirty Dancing. Then, Turn Back Time with Heidi Thompson as the diva herself, Cher, as she makes you Believe and relive decades of musical memories to please any Gypsies, Tramps and Thieves!
You'll have a blast during the audience participation-friendly, I Got You Babe when Cher looks for her Sonny or vie for the chance to be a back-up dancer for Cher's hit song, Shoop Shoop, from the movie Mermaids.
Beautiful costume changes, duets, and creative banter enhance this wonderful mixture of Blue-Eyed-Soul and Diva Pop! If you love some Old Time Rock-N-Roll and your "beat is still goin' on," then join Bill Medley and Cher for this once in a lifetime show!
Watch the What's Happening for ticket sale dates. Tickets will be sold at QuailCreek.ShoWare.com. All sales are final (no refunds or exchanges).