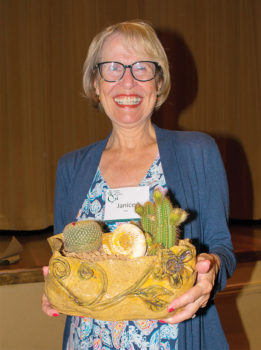 JoAnn Haberer
On May 21 The Women of Quail Creek were treated to a hands-on demonstration of how to create "natural patio art" using cacti, succulents and well-chosen pots. Francesca Schelenski and Kathy Stone, owners of Earth Angels, explained the basics of making beautiful cactus containers that are not only beautiful but also well-adapted to our desert climate.
The container they created contained plants that evoke a desert scene. Everything was selected to complement the overall design—even the hand-thrown pot was a one-of-a-kind creation made by Kathy Stone.
When the demonstration was complete, the presenters fielded questions from the audience. At the conclusion of the program a drawing was held and the handsome container garden was given to a lucky member of the Women of Quail Creek.