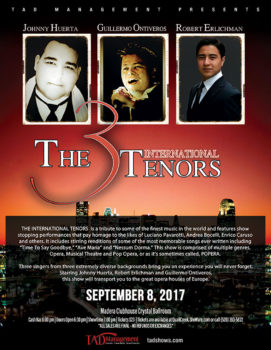 The 3 International Tenors are coming back by popular demand to the Madera Clubhouse Ballroom on Friday, September 8, 2017, at 7:00 p.m. with a cash bar opening at 6:00 p.m. Ticket price is $23.
The 3 International Tenors is a tribute to some of the finest music in the world and features show stopping performances that pay homage to the likes of Luciano Pavarotti, Andrea Bocelli, Enrico Caruso and others. It includes stirring renditions of some of the most memorable songs ever written including Time To Say Goodbye, Ave Maria and Nessum Dorma.
Comprised of multiple genres and styles including opera, musical theater and pop opera, or as it's sometimes called, Popera, three singers from extremely diverse backgrounds bring you an experience you will never forget!
Starring Johnny Huerta, Robert Erlichman and Guillermo Ontiveros, this show will transport you to the great opera houses of Europe.
Tickets available at QuailCreek.ShoWare.com; all sales final (no refunds or exchanges)