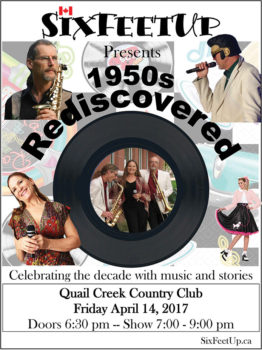 1950s Rediscovered, a musical journey through the decade that shaped popular culture will be performed by SixFeetUp on April 14, 2017 at 7:00 p.m. in the Madera Clubhouse Crystal Ballroom. Ticket price is $23 per person. A cash bar opens at 6:00 p.m.
The 1950s are credited with starting rock 'n roll but there is so much more to the music of the decade. In fact, we found 10 different styles of music that hit the charts in the 50s. Join SixFeetUp as we showcase over 40 top ten songs and use stories and humor to revisit some of the key elements that shaped the pop culture of the period.
We will explore the origin of rock 'n roll and doo-wop and how folk, rhythm and blues and international influences began to be felt on pop charts throughout the nation. We look at how jazz changed from the swing era to stay popular and how some of the best novelty songs of all time topped the charts.
Toward the end of the decade, rock 'n roll exploded in popularity. SixFeetUp will use our live horns and vocals to remember the energy and spirit of Elvis and his contemporaries. 1950s Rediscovered is a fast-paced concert that engages audiences and reminds them of what they already knew – the 50s rock!
SixFeetUp – Bio
SixFeetUp is a unique musical experience. The band features two great vocalists, three talented instrumentalists and an electronic rhythm section that delivers a big sound in a small package. Originally from Edmonton Alberta, SixFeetUp spends the winter in Scottsdale, Arizona and features: Kevin Gainer on alto/baritone sax/flute and clarinet, Gail Gainer on tenor/soprano sax and Bruce McGillivray on trombone. Bruce and Gail split the vocal duties.
As baby-boomers themselves, Kevin, Gail and Bruce grew up with the music dominating the charts in the 50s, 60s and 70s. With a growing repertoire of over 350 songs, they are proud to offer a unique musical range that covers everything from early 50s rock and roll, the best of 60s AM radio, Motown and their favorite 70s jazz-rock hits. With their experience in big bands, Kevin, Gail and Bruce can transform into the stars of the swing era for a little nostalgia and the best dance tunes of the 30s and 40s. If you like to dance or just enjoy listening to music that ranges from Duke Ellington, Ella Fitzgerald, Peggy Lee and Frank Sinatra to Elvis, The Beatles, Chicago and Tina Turner, you are going to love SixFeetUp.
Ticket sales at QuailCreek.ShoWare.com
All sales final; no refunds or exchanges.