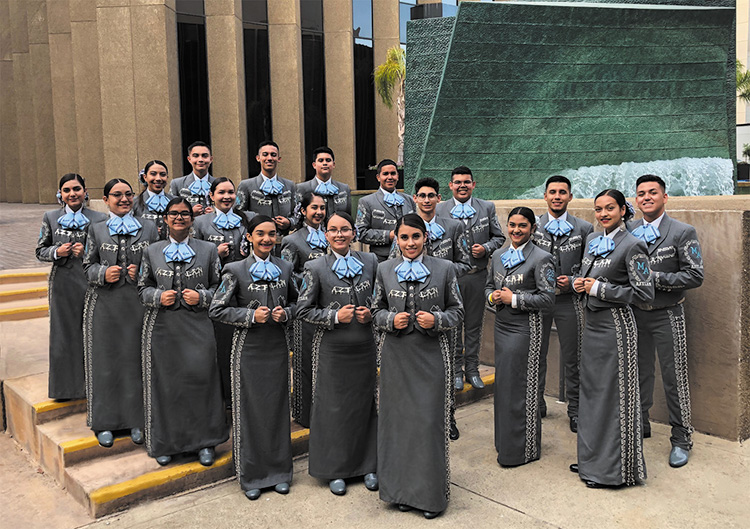 Cindy Mayron
The Women of Quail Creek's (TWOQC) annual holiday luncheon will be on Monday, Dec. 9, in the Madera Clubhouse Ballroom. The social gathering starts at 11:30 a.m., with the no-host bar opening at 11 a.m.
The menu will feature chicken piccata with lemon caper sauce and rice pilaf, and for dessert vanilla bean ice cream with chocolate sauce and a wafer cookie. There will also be a specialty holiday drink offered for $6.
Entertainment following the luncheon will be provided by the Mariachi Aztlan de Pueblo Magnet High School. Dressing in elaborate traje de charro costumes, Mariachi Aztlan performs traditional mariachi music arranged and conducted by John Contreras, a mariachi musician with more than 25 years of experience.
Mariachi Aztlan de Pueblo High School was founded in the fall of 1992 by Richard Carranza as a curricular component within the Pueblo High Magnet School Performing Arts department. Comprised entirely of Pueblo High Magnet School students ranging from 14 to 18 years old, the mariachi program has grown from eleven students in its first year to currently over one hundred and twenty students. Students choose from three levels of mariachi music: beginning, intermediate, and the advanced/performing group—"Mariachi Aztlan." After students enter the performing group, they must maintain a high level of academic achievement in order to remain on the "first team."
Their Facebook page explains that "their extensive practice and performance schedule also demands most of their free time. The 16-piece Mariachi Aztlan is motivated by pride and dedication to their cultural heritage of Mexico."
As Tucson's most popular youth mariachi, they have gained a reputation for excellence, sharing the stage with many of the world's finest Mariachi ensembles as well as Symphony Orchestras. Through their music, they are continuously promoting "a manifest pride" in their cultural background and are an excellent example of the best our youth has to offer. They have performed at previous TWOQC luncheons and have received standing ovations.
Tickets for the event are $20 per person for members and $25 for first-time only guests. Those wishing to sit together at tables of ten should purchase tickets together.
Tickets can be purchased online at womenqc.com or by contacting Bobbi Gordon at 520-625-9353 or  [email protected] The deadline for ticket sales is Monday, Dec. 2. This is the last luncheon of the year and is very popular and often sells out early!