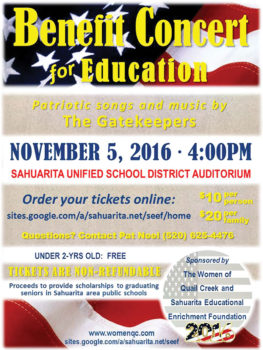 Diane Quinn
How often do you get a chance to thank our service men and women, listen to inspiring music, enjoy a sporting event and raise money for student scholarships? Not often. But, beginning November 5 you can do just that. The Women of Quail Creek and the Sahuarita Educational Enrichment Foundation have teamed together to co-sponsor a week long tribute to veterans and host two activities that will raise money for scholarships for Sahuarita Unified School District seniors.
Saturday, November 5 at 4:00 p.m. the Gatekeepers, from Ironwood Hills Church, will perform a fun filled, family concert of patriotic songs at the Sahuarita School District auditorium, 350 W. Sahuarita Road. Their music incorporates different styles including contemporary, gospel, black gospel, rhythm and blues, classical and a large a cappella repertoire. Tickets are available at the door for $10 per person/$20 per family, or online at sites.google.com/a/sahuarita.net/seef/home.
Thursday, November 10 at 6:00 p.m. the second annual Power Pack Attack will take place at Sahuarita High School (SHS). This is a fast paced basketball competition between the students of SHS and Walden Grove and their staffs. The winner receives the coveted Copper Bowl plaque. During halftime an uplifting tribute honors veterans and active military. Tickets are available at the door for $3 for students, military and veterans, $5 per adult and $10 per family or online at sites.google.com/a/sahuarita.net/seef/home.
Proceeds from both events will provide scholarships for graduating seniors from Sahuarita and Walden Grove High Schools. For more information consult the TWOQC website at womenqc.com or contact Pat Neel at 520-625-4476 or Mac Chernoski, 520-204-3903, machernoski@gmail.com.