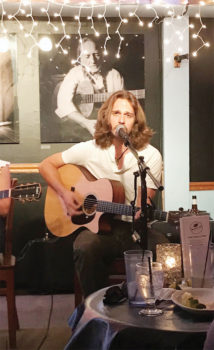 Debbie O'Rourke
If you haven't heard the song Quailville yet, you need to come out and hear it!
Dan O'Rourke wrote this song about his three-month sojourn living with his parents in Quail Creek. The song is a crowd favorite wherever he plays it!
A talented singer/songwriter based in Nashville, Dan's music tells stories about his journeys in life and in places. A little bit country, a little bit folk, it's a musical style called Americana not unlike that of Jim Croce and John Denver. His lyrics come from a place not many of us can put into words like he can.
Dan has played many times at Quail Creek and has gained a large following here. He has toured all over the United States and was recently a crowd favorite at the legendary Bluebird Café in Nashville. His new album Desert Rose will be released in November and will be available at the concert as well as on iTunes. It will contain the songs Quailville and Arizona. He also plays songs of the '60s and '70s.
He will give a free concert in the Madera Clubhouse Ballroom at 6:00 p.m. on Sunday, November 18. Tips are always appreciated. A cash bar will be open.