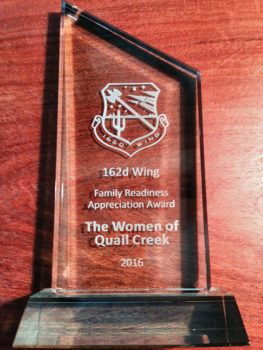 Diane Quinn
In a ceremony held April 2, 2017 The Women of Quail Creek received the 2016 Family Readiness Award presented by the 162nd Fighter Wing of the Air National Guard. The 162nd Wing is based in Tucson.
The award, presented by Brigadier General MacDonald, recognized TWOQC for its ongoing efforts to provide support to military families through its annual baby shower. Each year, through the combined efforts of TWOQC and Airman and Family Readiness Program Manager Barbara Gavre, approximately 30 young families benefit from the baby shower.
The award ceremony was attended by over 400 members of the 162nd Fighter Wing and included only one other non-military organization being recognized for its support. TWOQC is deeply honored to receive this recognition. This year's baby shower is scheduled for May 20 and is once again expected to make many families very happy.