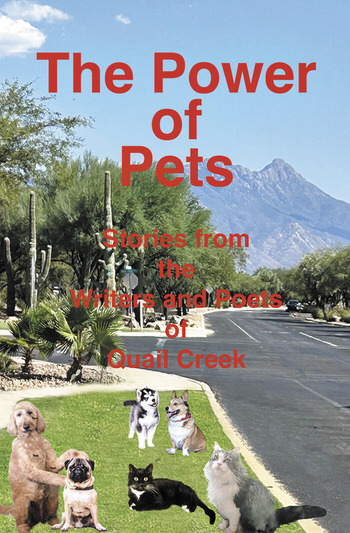 Marian Stoddard
The Writers and Poets Club of Quail Creek has self-published a collaborative book of poems and pet stories written by members of our club. The book title The Power of Pets was edited by Linda Beal and Bob Rietschel. The cover art was created by Dave Bareiss. The book is a collection of stories and poems about our pets, present and past.
The Power of Pets is available on Amazon, but please look for us at the annual QC Arts and Crafts Fair on Nov. 4 and 5 and at the Holiday Book Fair in Green Valley on Saturday, Nov. 25, at Desert Hills Lutheran Church where copies of The Power of Pets will be available for purchase at a discount.
Also, you can follow us on our website qcwap.org, or join us at our meetings, which are held on the first and third Thursday of the month from 1 to 3 p.m. in the Conference Room of the Kino Center.
In the last year or so, our members have published 20 books. We can show you how to self-publish your book at no monetary cost until you order your first copies. You may check the website for details under the "Self-Publishing" button.