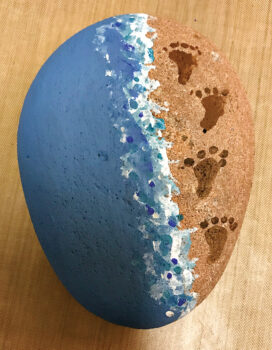 Peggy McGee
The last time the Lady Putters were all together to putt was March 11. What were they doing with their time now that they weren't on the putting green every Wednesday? After a very unofficial, non-scientific survey was sent out, not one of the respondents said "practicing putting." If this continues, everyone in the group will probably see her handicap go way up when putting finally resumes.
Marci Yenerich reported that she is moving to a new Villa in November, so her main pandemic project has been cleaning out her house, taking trips to Goodwill when it reopened, and scrounging around for empty boxes. She has taken advantage of Quail Creek's online feature "Items for Sale." Marci has also stopped painting her decorative bricks—for now.
Becky Ashin exercised her creative genes with basket weaving and ceramics. Another artistic putter, Julie Ratley, tried her hand at rock painting, a little sewing, and making jewelry. Julie Daines said she has done lots of jigsaw puzzles.
Putters president, Janet Wegner, reported she played golf on Wednesdays. Her putting skills paid off when she sunk an 18-inch putt for a birdie. Diane Wilson has been finishing unfinished projects in her sewing room—a work still in progress. She also tried making bread without the benefit of a bread machine. She unfortunately had to go back to the bread machine!
As an AARP/VITA volunteer tax preparer, Peggy McGee reported she was still preparing tax returns on Wednesdays, all the way through July 15. After that, she started taking extra-long walks on Wednesdays.
Several said they are golfing more, swimming at the pool, walking, reading, and trying new recipes.
All said they really miss Putters and the camaraderie it provides. They echoed they will all be so glad when the pandemic is over!