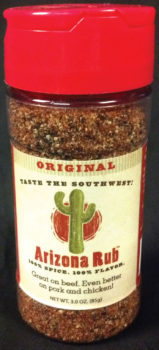 Diane Quinn
Mark Beres, co–owner and CEO of Flying Leap Vineyards, will be the featured presenter at The Women of Quail Creek February Program on February 27. Beres will present on Spices and Rubs, teaching the audience about how various spices and rubs are created and the impact they have on creating culinary treats. Flying Leap Vineyards acquired Arizona Rub, a barbeque company, two years ago and now sell these products at the vineyard. Samples of the various spices and rubs will be available to sample following the program.
Mark Beres grew up in Walla Walla, Washington, one of the state's foremost winegrowing areas. He has many years of large-scale commercial viticulture experience including vineyard development and harvesting. In 2010 Mark and two partners launched Flying Leap Vineyards. The trio, two of whom are former U.S. Air Force pilots, are dedicated to making high quality, small-batch wines and currently has vineyards in Wilcox and Elgin as well as several tasting rooms. A well-rounded individual with a variety of interests and a fascinating background, Beres is a captivating speaker.
Flying Leap Vineyards is the destination of TWOQC's March field trip. While attending the February spices and rubs program, women will be able to get a glimpse into what to expect while at the vineyard in Elgin. Tickets to the field trip will be on sale at the February 27 program. Field trip ticket sales are expected to begin at 9:30 a.m. in the Madera Clubhouse Ballroom. Beres' program will begin at 10:00 a.m. For further information consult TWOQC's website at womenqc.com.