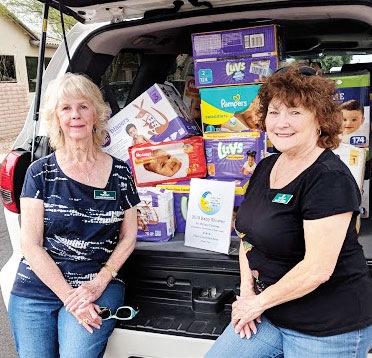 JoAnn Haberer
This spring, as Quail Creek Units are hosting parties to bid farewell to our part-time community members, consider using that opportunity to hold a "diaper round-up" for the Women of Quail Creek's Military Baby Shower. If you haven't purchased disposable diapers in a while, you'll be surprised to see how expensive they are. Our local military families could certainly use some help in keeping their little ones clean and dry, and a unit party is a great time to show your support.
At a recent block party in Unit 31, neighbors donated over 3,000 (yep, three thousand!) disposable diapers to help out. Can your unit help out? If so, contact Kathi Krieg, Military Baby Shower Chair, at [email protected] or leave diapers in the box at the Clubhouse or at Kathi's home at 2680 E. Sawyer Rd.
Many thanks to Unit 31 and all the units who donated diapers this year!