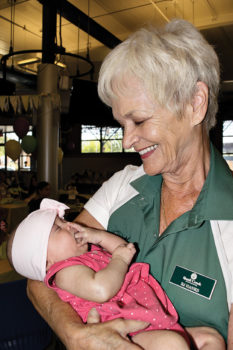 Diane Gordon
Planning and hosting the 162 Wing Air National Guard's annual baby shower has been a labor of love for volunteers of The Women of Quail Creek (TWOQC) for more than ten years. TWOQC's Military Baby Shower committee, in conjunction with the Airman and Family Readiness Program from the Base, put on this annual shower for families who have at least one member or both parents on active duty. The baby shower is for those military families expecting their first baby, for couples who may be stationed far away from family members and loved ones, and for those who have no support or financial help that they might need at this time.
The energetic volunteer committee of 32 active and enthusiastic women feel a patriotic sense toward these wonderful military families. Each year they make more than 1,400 baby items including baby clothes, receiving blankets, changing pads, diaper bags, items for moms, christening outfits, and a published baby book specially written about the Sonoran Desert.
The families also receive strollers, pack n plays, toys, and a large supply of diapers.
The baby shower means a lot to the recipients. Samantha Zurcher and her husband attended the shower five years ago. Her husband is a Wounded Warrior and now works with that program in the Veterans Administration. It was their first baby shower, and the gifts helped tremendously. They didn't need to purchase diapers until their son was six months old!
Another mother, Reva Chaffee, attended the shower three years ago. She discovered baby items she didn't know she needed. It was also a great environment for getting to know other parents having children at the same time. She is a tech sergeant in human resources, and her husband is at Davis-Monthan Airforce Base. Both women loved meeting the amazing women involved with the shower. They appreciated the acknowledgment of their service and the hours put in planning the shower.
On May 16, 2020, (Armed Forces Day) the next baby shower will be held at the Tucson Air National Guard Base. You can support the shower by donating. Monetary donations as well as toys and baby items are always welcome and appreciated. The donation wish list includes pack-n-plays, portable cribs, swings and walkers, baby carriers, high chairs, baby toys, diapers, baby clothes, and onesies. Donations may be dropped off at the Madera Clubhouse, Anza Athletic Club, and 475 N. Keyes Rd. If you have any questions, please contact the Committee Chair, Karen Baker at 520-269-7341.
The Baby Shower Committee and The Women of Quail Creek greatly appreciate the generosity of this community.