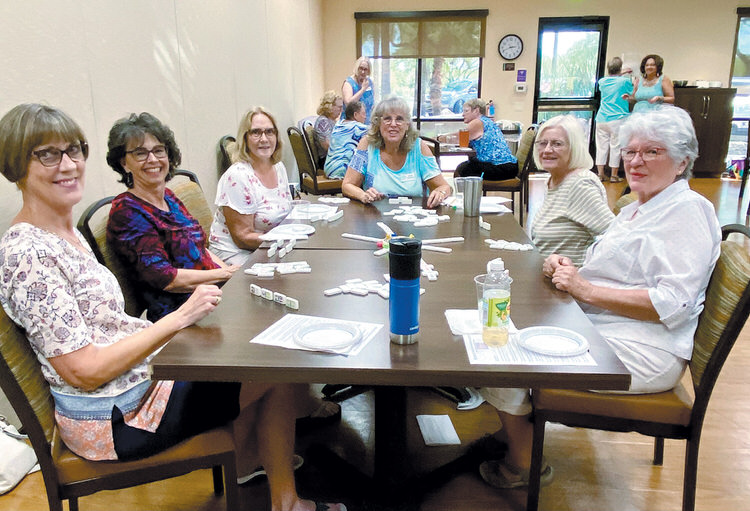 Jane Gold
On July 11, 24 The Women Of Quail Creek (TWOQC) members had the opportunity to find out how to play Mexican Train. Easy to learn, Mexican Train Dominoes is a game that combines just the right mix of skill and luck and can be enjoyed by all ages. (In fact, it's a great game to play with visiting grandchildren!)
There are many groups right here in Quail Creek who play regularly, building friendships that are lasting and treasured.
The event was for beginners and experienced players alike. There was at least one experienced player at each table to help the "newbies" with the rules of play.
Thank you to all our Mexican Train "conductors" who helped make this event so much fun! Special thanks to Deb Robinson, Pat Holmes, Becky Ashin, and Pam Hartwell-James for serving as Mexican "trainers," introducing this fun game to newbies who had never played before.
Several participants asked after the event whether it would be possible to play every month. The answer is yes! TWOQC members need to look for an announcement on the TWOQC GroupWorks page as to the time, date, and place.
What members had to say about this special activity:
"It really was fun to play and to teach others how to play this super fun game. I know having five or six at a table can seem crazy, but once everyone learns the rules, it's a whole lot easier." —Pam Hartwell-James
"Thank you, Pam, for teaching me Train. It was great." —DeeDee McKee
"I really enjoyed being a trainer. I had a great group of ladies who were new to Mexican Train." —Becky Ashin
"First time playing, and I had a great time. It's a nice way to get to know other ladies in a fun and easy game." —Joyce Shumate
"It was a fun afternoon, and I would love to play every month. Love Mexican Train and learning new ways of playing." —Marina Nelson