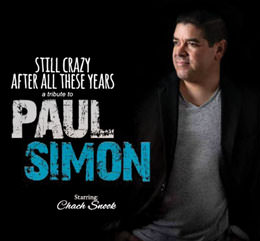 Still Crazy After All These Years – a tribute to Paul Simon will be on Monday, Jan. 27, 2020. A cash bar will be available at 6:00 p.m. with showtime at 7:00 p.m. in the Madera Clubhouse Crystal Ballroom.
Tickets are $26.
This show is produced by Khris Dodge Production.
Rock and Roll Hall of Famer, multiple Grammy winner and prolific singer/songwriter Paul Simon is lauded as one of the all-time greats. Spend an evening listening to his most popular solo hits such as "Me & Julio Down by the Schoolyard," "50 Ways to Leave Your Lover," "Mother and Child Reunion," "You Can Call Me Al" and "Kodachrome," as well as a range of selections from his unparalleled 1985 album, Graceland. The multi-faceted Chach Snook stars in this tribute and is joined on stage by arranger/pianist/percussionist Khris Dodge along with a collection of musicians to honor this living legend.
All sales are final – no refunds or exchanges.
Tickets are available at Quailcreek.ShoWare.com, at the Madera Clubhouse Concierge Desk or by calling 520-393-5822.