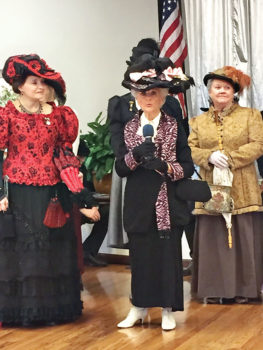 Diane Quinn
The Tombstone Vigilettes will bring their unique fashion show to the Women of Quail Creek's luncheon on June 26. This group of women makes their own fashions from vintage patterns reminiscent of fashions worn in Tombstone in the 1880s through 1915. Each Vigilette owns and models original dresses or she has made and assembled pieces that are correct for the period. The goal of the Vigilettes is to promote interest in the fashions during the most active period in Tombstone history. The Vigilettes offer free fashion shows in Tombstone on several Sundays throughout the year.
The Vigilettes will provide a small fashion show while TWOQC celebrates the summer with a vintage picnic of tomato with chicken salad and ice cream for dessert. The festivities begin at 11:00 a.m. in the Madera Clubhouse Ballroom.
This is also the time when TWOQC traditionally collects Food for the Troops. Collected items will be taken to the Air National Guard 162nd squadron base in Tucson. Those attending the luncheon are asked to bring food items and are particularly encouraged to provide: Chef Boyardee (Ravioli, Spaghetti-O's, Beefaroni), breakfast bars, Pop Tarts, soups (chicken noodle, vegetable beef, tomato etc.), Hamburger Helper/Tuna Helper, peanut butter and jelly, spaghetti sauce and snacks (Cheez-Its, Goldfish, crackers).
The June Luncheon is open to members of TWOQC and first-time guests. Reservations are $20. For further information contact [email protected]