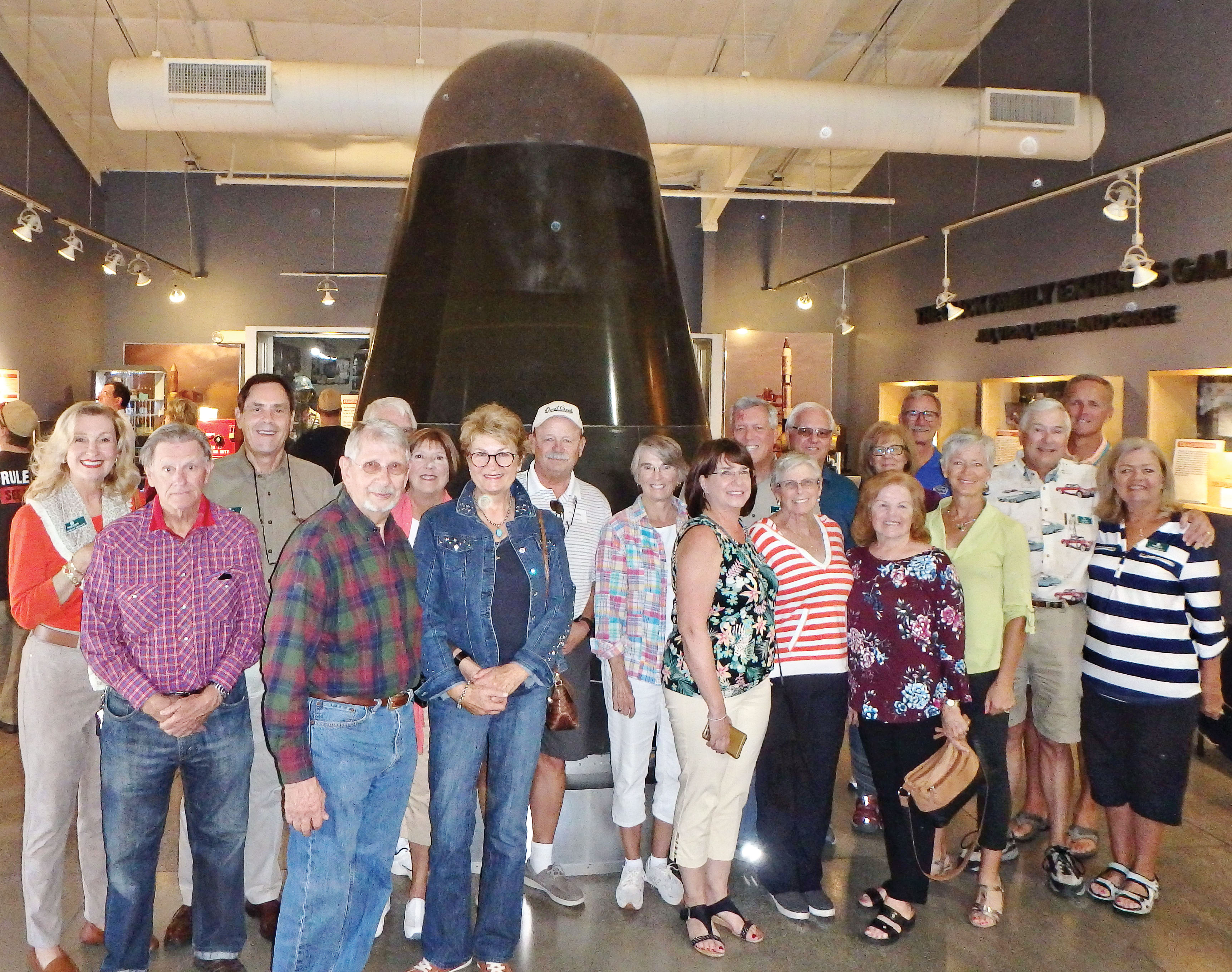 Jerry G. Bryant
October 10 was a crisp fall morning when the CC Riders (members of the Cool Car Club) gathered for a two-part outing to open the 2018-2019 season.
The first stop in the club's Cold War Expedition was the Titan Missile Museum. This unique treasure in Green Valley is the sole remaining Titan Missile site and today stands as a National Historic Landmark. It was formerly Titan II launch complex 571-7 and was one of 54 Titan complexes that stood alert between 1963 and 1987. The Green Valley site stood down on November 11, 1982. Before reopening as a museum in 1986 a number of modifications were necessary to demonstrate that complex 571-1 was no longer an operational missile site. Holes were cut in each of the missile's propellant tanks and displayed on the surface for 30 days to allow satellites to confirm the modification. The silo door was also permanently blocked half way open with six huge concrete blocks that prevent it from being further opened.
During the club's visit, by popular acclaim, and because he was standing closest to the seat, Cooper Eastman was elected to serve as our missile commander. With some remedial training Commander Coop turned his launch key sending our imaginary missile skyward.
Generally speaking, when people gather in front of a nine-megaton nuclear warhead for a group shot, there's fun to be had. This was certainly true for the Cool Car Club Cold Warriors.
Next stop – the Desert Sky Cinema in Green Valley for a private showing of that Cold War classic, Dr. Strangelove or How I Learned to Stop Worrying and Love the Bomb. The theater very kindly allowed the club to have pizza delivered from the nearby Pizza Hut. Peter Sellers did not disappoint in his three roles – a British exchange officer, the President of the United States and, of course, Dr. Strangelove, the eccentric old Nazi with the difficult to control mechanical hand. George C. Scott was a crazy general who had to be admonished that there was to be no fighting in the war room. And Slim Pickens, our trusty BUFF pilot, made the best of the situation when he found himself astride his nuclear weapon exiting the bomb bay – a fun and innovative solution to his weapons release problem.
The Cool Car Club thanks the staff at the Titan Missile Museum, Norm Jackson at the Green Valley Pizza Hut for a great job in preparing and delivering our pizzas and salads and Austin Wentworth at the Desert Sky for graciously hosting us and our pizzas.
Tune in next month when the CC Riders will be starring in "Sedona or Bust." If you'd like to join the ranks of the Cool Car Club, contact Jerry Bryant, jgbdd[email protected], 520-829-7071. If you think your car is cool so do we.