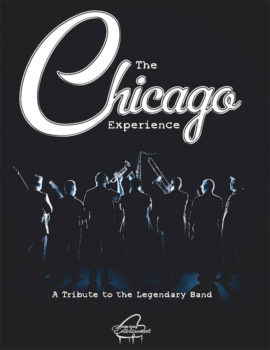 The Chicago Experience – A Tribute to the Legendary Band is coming Monday, January 7, 2019, at 7:00 p.m. Tickets are $25 for this Khris Dodge Entertainment production.
Starring Chach Snook and Matthew Holter. Twenty-three gold albums, five number one albums, 21 top-ten singles and 100+ million albums sold. Celebrate the music and majesty of the original "rock and roll band with horns." Two vocalists blend seamlessly with amazing horn and rhythm sections to recreate the signature sound of the Rock & Roll Hall of Fame members. The Chicago Experience features Saturday in the Park, If You Leave Me Now, Does Anybody Really Know What Time It Is, and many, many more. It'll be an evening of the greatest hits from the greatest band of all time.
All sales are final (no refunds or exchanges).
Tickets are available at Quailcreek.ShoWare.com or at the Madera Clubhouse Concierge Desk or call 520-393-5822.