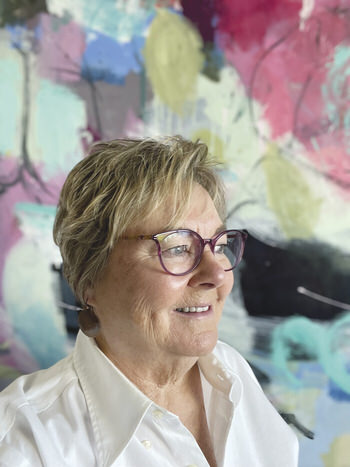 Emilie Ortega, President, QCFAPC
When you first meet Terry Smith, you are drawn to her enthusiastic personality and her friendly style. She never met a stranger. But once you go beyond these very charming traits, you find a very serious artist and someone who will inspire you to color outside the lines, just as she does, almost all the time.
Fun Fact #1: Terry was raised on a wheat farm and was educated in a two-room schoolhouse on the Kansas prairies—24 students in eight grades.
Art was all around her, since mom, grandma, and aunts were painters. The idea of creating was not new to her, but it would be decades before she could devote her time to creating art, because "life happens": college, three children, a seriously complex career in computer science doing consulting work for a major accounting firm, traveling all over the country to 14 different states, and in multiple industries. Later, she moved to the cellular industry, working for T-Mobile and AT&T for 15 years in the discipline of Business Intelligence. Clearly, Terry learned and contributed a great deal during her career, but the artist hidden in her heart was pleading to get out. It happened, but not the way she had planned.
In 2005 Terry was diagnosed with breast cancer. Instead of a classic support group, Terry joined a weekly painting class. Terry says, "The women in that class saved my sanity, and I got hooked on the expansiveness and joy of creativity."
Fun Fact #2: In high school, Terry loved to make signs in the cool style of the '60s and '70s. Ten years ago, she learned there was an actual job called "Font Designer." Had this been available to her years ago, her career path might have been very different.
Terry left corporate America in 2014 to focus on travel and painting. She has studied with artists in Seattle, Canada, Mexico, and Italy. The hidden artist in her heart for so long had emerged! And all of us in the Fine Arts Club are so glad!
Fun Fact #3: As a child, Terry and her sister were allowed to design and decorate their rooms. Bright pink and orange were the primary colors used. Even now, you will see these bright colors in Terry's artwork. Interesting how some things stay with us always.
Terry loves teaching, and it certainly shows in the mixed media classes she has taught here in Quail Creek. She has made many friends here through her innovative painting classes, which include lots of "hands-on" time in class. Terry's motto is "Fun, Friends, and Freedom, Baby," and that is exactly what you will find when you take one of her classes.
Terry's advice to us is, "Try a lot of different mediums to see what appeals to you. If you don't like a medium, get out of it and try something else. We are all different and unique, but there is something for everyone in art."
You are invited to check out our art classes on the Quail Creek Fine Arts Painting Club (QCFAPC) website qcfapc.com. Come join us for some "fun, friends, and freedom" while we explore the many mediums available through our classes. Until next time, happy painting!