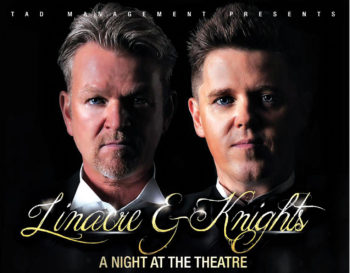 Linacre & Knights ~ A Night at the Theatre, produced by TAD Management, will be presented Friday, March 10, 2017, at 7:00 p.m. in the Madera Clubhouse Crystal Ballroom with a Cash Bar opening at 6:00 p.m. Ticket price is $26.
A Night at the Theatre is a breathtaking show featuring songs from all the smash hit west end and Broadway musicals.
Giving you a fresh new look at London's West End and Broadway show tunes through their amazing voices, the international entertainers Rob Linacre and Dan Knights have flown over from the UK to share some of their favorite musical masterpieces.
Presenting musical theatre at its finest and showcasing personal arrangements, including The Music of the Night, (Phantom of the Opera), Over The Rainbow (The Wizard of OZ) and This Is The Moment from Jekyll & Hyde, this production also features songs for hit Broadway shows like Les Miserables, Joseph and the Amazing Technicolor Dreamcoat and many, many more!
Having performed all over the world, both Rob and Dan exude warmth, charisma and uninterrupted professionalism on stage and off. Now sit back, relax and listen to these two beautiful voices bend together in one unforgettable show!
Tickets on sale at QuailCreek.ShoWare.com
All sales final; no refunds or exchanges