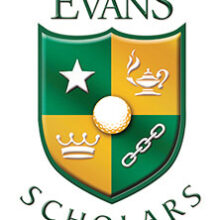 Daryl Laux, Webmaster
Residents have a chance to invest in a winning program for Junior Caddies. You can do so by joining the Par Club. The Evans Scholars Foundation is supported by Par Club members—friends like you who love the game of golf and want to help high-achieving caddies with a financial need to go to college. Earning the Evans Scholarship might be these students' only shot at college, and your Par Club support makes it possible! There are many different membership levels available. 2021 Evans Scholars Par Club Membership Applications can be picked up at the Pro Shop counter.
With more than 33,500 annual donors, the Par Club is the primary source of funding for Evans Scholarships. Par Club memberships start at $250 and can include your spouse at no additional charge. All Par Club members receive personalized bag tags, recognition in our annual report, and choice of a gift from our Par Club premiums store.
With a record 1,070 Evans Scholars in school this year, your Par Club support is more important than ever. Help us meet the rising cost of college tuition and change the lives of hardworking, young caddies by joining the Par Club today.