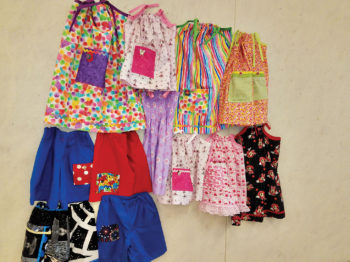 Max Perzan
It all started in 2010 when the ladies of the Quail Creek Needlework Club made "pillow case" sundresses to help young girls who had been victims of a devastating earthquake in Haiti. The club was able to send more than 100 dresses at that time to support the young girls.
The tradition of making pillow case sundresses continues to this day. However, we have new charities which our club now supports. Since January 1, 2018 our club has donated 140 dresses to Aviva Children's Services in Tucson. Aviva works in conjunction with Child Protective Services and they have many young girls to care for. We were told by Aviva that some of the girls wear the dresses as nighties as well as a nice dress for the summer weather.
In addition, we have donated, to date, 134 sundresses to St. Andrews Clinic in Nogales, Arizona. We were told that these dresses make the young girls very happy.
Also, we have not forgotten the boys. To date, we have donated a total of 29 pairs of shorts. These are the little things we do as a club to help others in need and it makes us all smile.
Our club meets twice each week: Tuesday mornings from 9:00 a.m. to noon and Friday afternoons from 1:00 to 4:00 p.m. Drop in and visit or take a look at items we have for sale in our window. We are located in the Creative Arts and Technology Center, Studio 104.