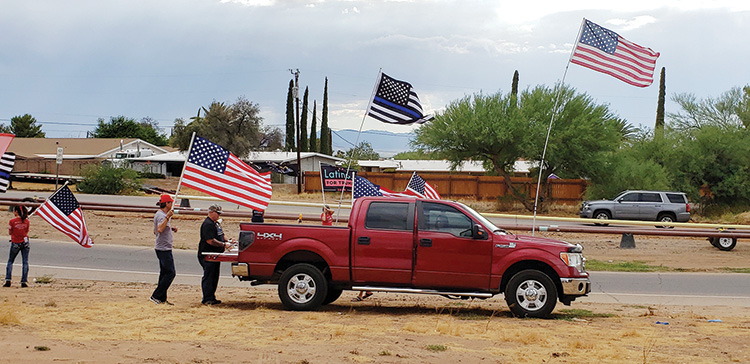 Rich Ulery
On July 16, 100 Quail Creek Republicans gathered at Tay's BBQ and Brew House in Corona De Tucson for a campaign rally featuring a scrumptious BBQ dinner provided by the fabulous staff at Tay's BBQ, and a keg of beer provided by the Quail Creek Republican Club. The event gave all attendees one more opportunity to meet and talk with our Republican candidates prior to the primary election on August 4. As they arrived, all were greeted by a flag waving contingent of conservatives along the road fronting the restaurant.
Daniel McCarthy, Republican candidate for the U.S. Senate joined the festivities to promote his primary campaign. All three candidates for U.S. Congress, Brandon Martin, Joseph Morgan, and Noran Eric Ruden, worked their way around the room speaking with each attendee. Arizona House candidate, Deborah McEwen, Pima County Recorder candidate, Benny White, and Pima County Supervisor candidates, Steve Christy and John Backer, interacted with the enthusiastic crowd of Republican supporters.
The fun, educational, campaign BBQ rally was enjoyed by all!