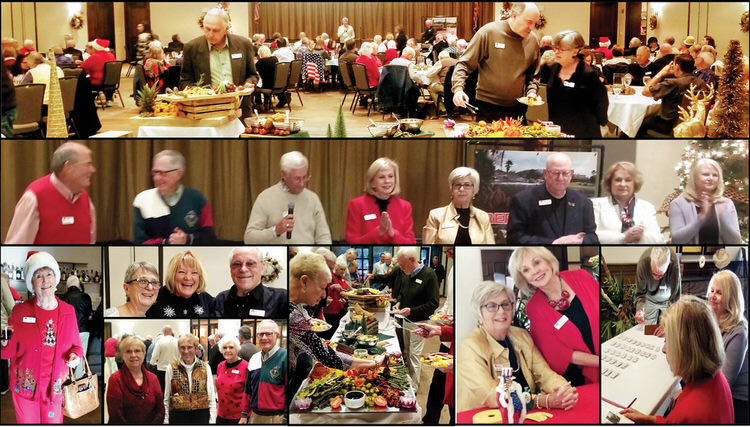 Steve Ware, Secretary, Quail Creek Republican Club
More than 100 members of the Quail Creek Republican Club (QCRC) gathered at the Madera Clubhouse Crystal Ballroom on Dec. 17 to cap off a great year, elect 2022 QCRC board members, and preview the 2022 programs.
The celebration commenced with a buffet of cheese, meats, and fruits, and a wine and beer bar catered by the QC Banquets Department. Members mingled and enjoyed the food and fellowship with Christmas music.
President Rich Ulery introduced the 2022 board candidates: Rich Ulery, president; Pat Colburn, 1st VP; Kathy Kimbrell, 2nd VP; Steve Ware, secretary; Pat Hendershott, treasurer; Shelley Kais, program chair; Sherry Mayer, membership chair; and Dave Roy and Rick Swenson, both at-large members. The board was approved by acclamation. Rich recognized Bill McKinley and Tom Fisk for their service on the board by presenting them each with a club challenge coin. The 2022 QCRC board will be sworn in at the January meeting.
Pima County Republican Party Chair Shelley Kais provided an update on the state of the party in Pima County. She stated that the party was strong. Shelley testified to the state legislative committee on election integrity earlier this month. She informed them that many irregularities had been found. She also indicated the 2020 Census state redistricting effort was nearing completion.
President Ulery provided a review of upcoming QCRC events in 2022. Being a midterm election year, many candidates will be available at meetings to allow members to better know their candidates. June will feature the annual Kegger, and August will feature ballot initiatives and school board candidates. After the August primary, members will have an opportunity to meet the general election candidates at an Oktoberfest event, and December will again feature the annual wine and cheese board meeting.
As part of continuing community service, members were asked to bring donations for the Sahuarita Food Bank. One hundred twenty-five pounds of nonperishable foods were collected and delivered to the Sahuarita Food Bank. Thanks to all who donated!