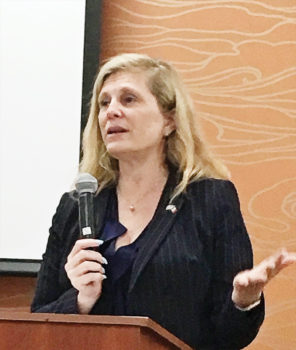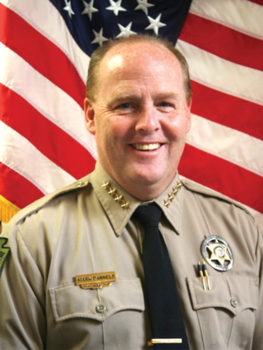 Christine Tucker
On Friday, Sept. 20, Quail Creek Republican Club President Shelley Kais welcomed Virginia Staab, U.S. Consul General for the United States Consulate in Nogales, Sonora, Mexico to the Quail Creek Republican Club. During her presentation, Virginia outlined many issues affecting the U.S. relationship with Mexico, her role in representing and protecting U.S. citizens traveling to and from Mexico, and how she has made a difference in representing American values and the American spirit in several overseas assignments as a career diplomat for the U.S. Department of State. Sixty enthusiastic attendees brought their many questions and left the meeting with a better understanding of border issues and challenges.
The October meeting of the Quail Creek Republican Club will continue the focus on border issues. Cochise County Sheriff Mark Dannels will visit Quail Creek on Friday, Oct. 25 beginning at 9 a.m. in the Ocotillo Room at the Kino Conference Center.
Sheriff Dannels is a 35-year veteran of law enforcement. He is a member of the U.S. Department of Homeland Security Advisory Council and a current member of the National Sheriff's Association, where he serves as the Immigration and Border Security Chairman. Sheriff Dannels has been recognized and awarded the Medal of Valor, Western States Sheriff of the Year, and National Police Hall of Fame.
Don't miss Sheriff Dannels' presentation on organizational development, border security, and community outreach. We'll see you on Oct. 25!