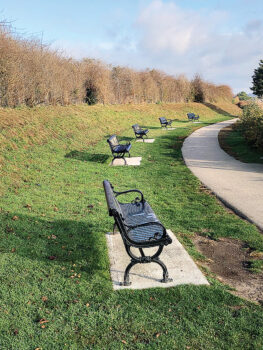 Jim Burkstrand
The Photo Club of Quail Creek continued with its monthly member's contest with October having the topic of benches. Each club member could enter up to three photos taken in the last three years. This subject was a fun one for the local residents and drew 24 entries. All of the photos can be seen on our Flickr site: https://www.flickr.com/photos/[email protected]/albums/72157711658601321.
Thom Sharples won first place with his photo Looking Forward. Tom commented, "I was at Mission San Xavier during off hours lighting a candle for a family member. I saw the rows of empty benches with the interesting checkered wall. I took the opportunity to capture this unique photo with my phone camera. I utilized techniques that were presented at our October Technical Photo Meeting using cropping and black and white processing to enchase the photo's quality." Tom used his iPhone XS to capture this.
Denny Huber took second place with his photo All American Bench. Denny commented, "Yes, I saw this bench at my daughter's horse barn in Illinois. It was on its last legs; you would never sit on it and indeed it was gone the next time I went there. I took the picture because … how could I not? The red, white, and blue against the green background; the yellow rope on the ground; the weeds growing up through it; the paint chipping. It was so rustic. Of about six pictures, I liked the low angle of this one best, and I bumped up the saturation just a wee bit." Denny used a Canon Rebel T6s with a 18-135 mm lens. His shot was at 20mm, 1/80 sec, f/5.6 and 100 ISO. Post processing was done in Lightroom.
The photo Waiting by Bob Auflick placed third. Bob said, "The photo was taken on Oct. 26, 2019 in Newport, Rhode Island. The picture is from a very popular and scenic hiking area known as the "Cliff Walk". The Cliff Walk lies behind several historic mansions like Vanderbilt's "The Breakers" with the ocean crashing far below. The benches stood out in their simplicity and splendor as they soaked in the early morning light awaiting the day's activities." Bob used an iPhone 8 for his camera and processing.
The Photography Club of Quail Creek has a monthly photo contest for its members and also schedules numerous photo field trips for members throughout the year. Meetings are held the second Wednesday of the month at 7 p.m. at the Kino Conference Center, Mesquite Room. Room venue could vary each month. Consult the club's constantly updated website http://www.pcqc.org as well as the weekday HOA What's Happening for additional information.