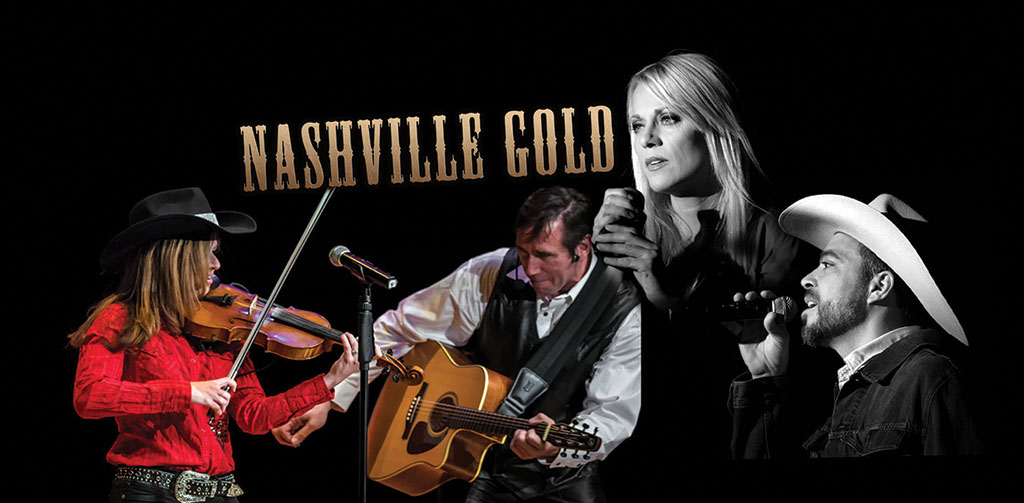 TAD Management presents Nashville Gold ~ 50 Years of Nashville Music on Friday, January 22, 2016, in the Madera Clubhouse Crystal Ballroom. A cash bar opens at 6:00 p.m. followed by a 7:00 p.m. show time. Concert is 75 to 90 minutes long with a 15 minute intermission. Ticket price is $25 per person.
The audience will be stompin' their boots and singing along as Tad Management presents their most recent production, Nashville Gold, featuring the music of the greatest country artists of all time. Each facet of country music is included, from everyone's favorite kings and queens of country to musical outlaws, urban cowboys and honky-tonk heroes.
You'll hear all the hits and feel like you've got a front row seat at the Opry House or in the Country Music Hall of Fame. The one thing they had in common was to create unforgettable county music and you'll hear it all in Nashville Gold. From the earliest days of what was referred to as Hillbilly Music through the Grand Ole Opry, Singing Cowboys, Western Swing, Honky Tonk, The Nashville Sound, Outlaw Country and Urban Cowboy, right up to today's New Country, no era of good ol' American music is left behind in Nashville Gold.
Featuring an amazing band and some of the most talented vocalists touring today, Nashville Roadshow will bring back all those great memories. Whether you're a fan of The Man in Black or want to hear about the guy with Friends in Low Places, don't miss The Nashville Roadshow.
All sales final (no refunds or exchanges)