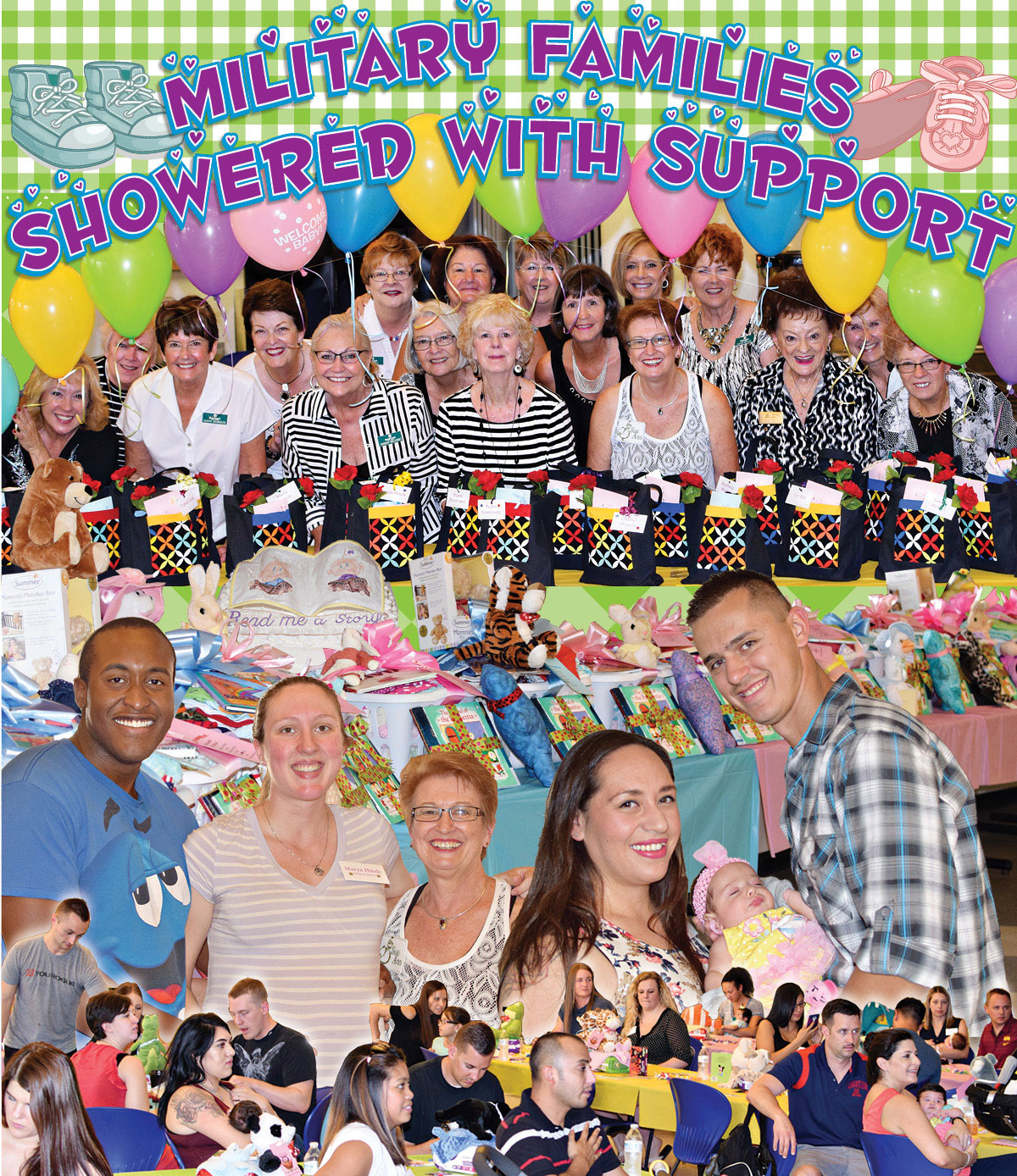 Diane Quinn
Looks of amazement shined on the face of each Mom and expectant Mom as she entered the transformed mess hall of the National Guard 162nd Fighter Wing on July 25. Twenty-eight families, 12 of whom included moms who are in the military themselves, joined The Women of Quail Creek (TWOQC) for its fifth baby shower for military families. Some of the moms had already given birth while others are due within the next few months. Regardless of the circumstance, each family was overjoyed to have been included in the celebration.
Planning for the event started months ago, with a call to residents of Quail Creek and the greater Green Valley area to donate items of clothing, diapers, baby wash, toys and other essentials for new mothers. Selecting the theme Read Me a Story, organizers wanted to stress the importance of exposing children to reading at the earliest possible opportunity. Donations hit an all-time high, including contributions of 4,000 diapers, over 130 handmade blankets, 12 specially made quilts for the military moms, 300 onesies and nearly $4300 cash. Over 200 books were donated and included with both the gift baskets and diaper bags each Mom received. Green Valley's White Elephant donated hundreds of pieces of gently used clothing so each mother could shop for additional free items to take home for her new baby.
Donated funds were used to purchase new clothing, strollers, booster seats, baby bath supplies, backpacks and countless other items. Each of the mothers was given raffle tickets to enter drawings for prizes organized by the committee. While committee members worked hard behind the scenes, each mom won a great raffle prize. Still other specialty raffles were won by a very lucky few; taking home hand-made Christening outfits or crib blankets, jogging strollers, or two oversized baby bottles each filled with over $350 of coins to start baby's college fund.
The assembled families expressed both surprise and gratitude for the generous gifts they received. Many families shared stories about how much the shower meant for their family, in some cases because it was the only shower they might experience. One mother told of her experience being a new mother while her husband had recently deployed far from home.
This year's TWOQC baby shower committee, chaired by Pam Rodgers, consisted of a group of no more than 20 women who fund-raised, shopped, folded, packed and moved hundreds of baby items. All of the effort was put forth to thank our military families for a job well done while keeping us safe. As Pam told local media filming the event, "They do so much for us. It is our way of showing support and thanking them."