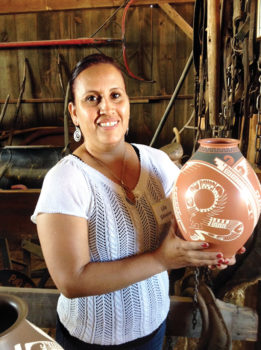 Ron and Vicki Sullivan
Mark your calendars for October 12, 13 and 14. Quail Creek will host its third annual fall Mata Ortiz pottery, Zapotec weaving and Taxco jewelry show at the Kino Conference Center.
For the first time, master potter Lila Silveira will be a featured artist at Quail Creek's Kino Conference Center. A second-generation potter from the village Mata Ortiz, Chihuahua Mexico, Lila began her career making the traditional styles that her barrio Porvenir is known for. With a twist of fate, she was chosen to study under Juan Quezada, one of the original masters credited with the pottery revival movement in Mata Ortiz.
Lila was fortunate to study under Juan for two years. He rarely taught people outside of his immediate family circle. Juan came to her home daily and taught her all aspects of his pottery techniques and designs.
Widely recognized as Juan Quezada's favorite student, she is proud to carry on the traditions that he taught her, always adhering to the highest standards of quality.
Returning for their third consecutive year are master potters Lydia Quezada, Pabla Talavera Quezada and Moroni Talavera Quezada. Lydia, sister of world renowned potter Juan Quezada, and her family will be demonstrating their intricate slip designs.
Weather permitting, the potters will fire pottery about 11:00 a.m. on Saturday and Sunday.
Internationally acclaimed Zapotec weaver Porfirio Gutierrez will demonstrate weaving on his loom. His lecture "Traditional Zapotec Dyes: Survival in the Modern World" will be held each day.
Rounding out the October event is jewelry made from contemporary Mata Ortiz pottery shards and 92.5 percent silver by Agustin Torres Beltran, a Nahuatl Indian in Taxco, Mexico. Each piece is one-of-a-kind, totally hand formed.
For more detailed information go to our website at www.mataortizconnection.com and click on "visit us."
Show hours: Friday, October 12, noon–5:00 p.m.
Saturday, October 13, 9:00 a.m.–4:00 p.m.
Sunday, October 14, 10:00 a.m.–3:00 p.m.