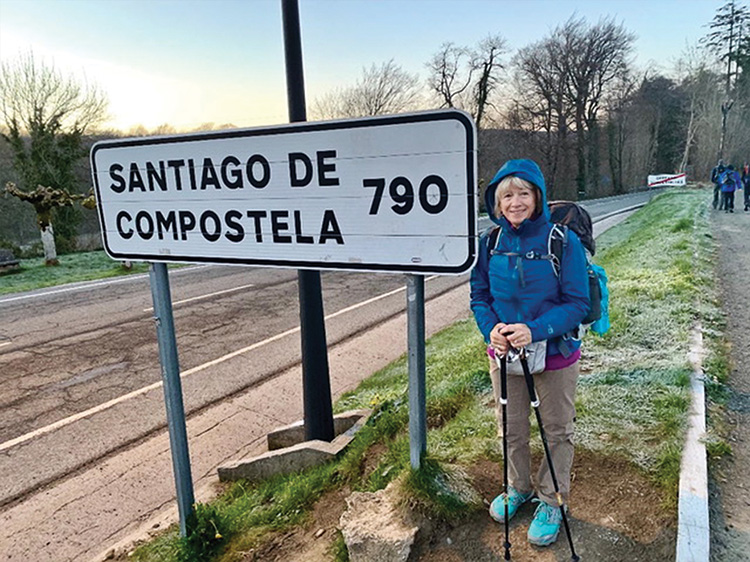 Jean Tittle
Are you a person who takes the recommended 10,000 steps a day? Congratulations, if you are! Quail Creek's own Judy Middleton has most of us beat by a long shot with over 35,000 steps a day. This past April and May she walked 500 miles (1,000,000 steps) in 34 days along the northern coast of Spain on the Camino de Santiago, a UNESCO World Heritage designation as of 1987.
In 2017, Judy arrived in Spain for her first attempt at completing the 500-mile walk from St. John Pied de Port, France, to Santiago in Galicia, Spain. After 110 miles, an attack of severe tendinitis forced her to return home where she spent several weeks recovering. Discouraged, but not defeated, she was determined to return and begin again.
In the spring of 2019, she did just that after three months of dedicated preparation. Initially walking/hiking four-five miles a day in February, she graduated to 11 miles a day in March while carrying a ten-pound pack. She and her Camino companion, Corinne Loprinzi, a Portland friend, flew to Spain in mid-April and then traveled to St. John Pied de Port on the east side of the Pyrennes to begin their journey.
The two of them stayed in hostels and humble inns, but spent two special night in a hotel with clean sheets, towels, and hot showers. They experienced snow, drizzle, wind, rain, downpours, and, thankfully, some balmy days. Judy chronicled her journey on her blog "My Camino Journey Continued" sharing her daily journal and pictures of the entire walk. The pictures included mountains, valleys, steep hills, rivers, streams, bridges, stone pathways, tiny villages, as well as many of her evening repasts – healthy sustenance for the next day's travel.
The Camino de Santiago, also known as The Way of St. James the Apostle, began in the Middle Ages as a Christian pilgrimage to honor St. James, who preached Christianity in northern Spain. When he returned to Jerusalem he was beheaded by King Herod. It is believed his remains were eventually buried at the site of the Cathedral in Santiago. His shrine at the Cathedral is honored by pilgrims from all over the world. In 2019, approximately 350,000 people representing 200 countries received the Compostela certificate for their accomplishments.
Please join Judy on Monday, March 16, at 7 p.m. in the Madera Clubhouse Crystal Ballroom as she shares her story and photographs of the life-altering journey. Tickets are $5 and can be purchased by check in advance at the Madera Clubhouse Concierge Desk or on the night of the lecture by cash or check.
The Kino Lecture Series is sponsored by The Women of Quail Creek's (TWOQC) Scholarship Committee. All profits go directly to scholarships awarded to senior girls at Sahuarita and Walden Grove High Schools and to local Women in Transition (women over 21 years old returning to higher education). Since 2016, TWOQC Scholarships Committee has awarded $27,000 in scholarships and will add to that amount in 2020.