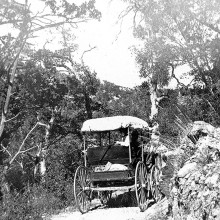 Friends of Madera Canyon is pleased to present the History of Madera Canuon on Monday, October 6 from 7:00 to 9:00 p.m. in the Madera Clubhouse Ballroom by Vice President of Education, FOMC Jim Woodward. Tickets are $10 per person and available at the Concierge Desk or Green Valley/Sahuarita Chamber of Commerce.
Today when we look at Madera Canyon we probably think about how pretty it is or possibly what a great place it is to hike, picnic or go bird watching. In actuality the Canyon has been attracting human attention for thousands of years and for most of those, natural beauty and exotic bird species were not the primary reasons for being there.
Food, water, protection and shelter were the paramount reasons for inhabiting the Canyon. With the arrival of the Spanish in the area, mineral wealth became the focus of their quest. In time the native peoples were displaced and Madera Canyon was seen as a source of non-renewable and renewable natural resources including mineral, lumber and grazing wealth. In time the natural value of the Canyon was better appreciated and is now preserved for generations to come. Please join us to explore the history of Madera Canyon and learn more about this natural jewel right in our backyard!