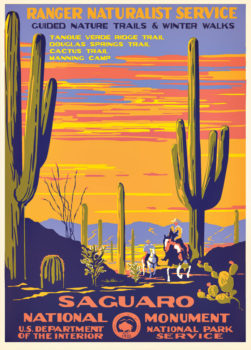 Jean Tittle, Kino Lecture Series Chair
For those of us who love and value our country's National Parks and are concerned about their future, any information related to their history is welcome. Doug Leen, retired dentist and former National Park Ranger, has dedicated the past 45 years to recovering, preserving and donating back National Park posters originally created by the Federal Art Project, a division of the W.P.A., during the Great Depression.
In the early '70s while working as a park ranger at Jenny Lake in the Grand Tetons, he found an original poster while cleaning out a stable shed and was told to discard it. Recognizing its historic value, he decided to save the poster and begin researching its origin. This quest has taken him over 40 years to recover 13 of the original 14 posters created by the Federal Arts Project between 1938 and 1942.
Two of the posters in his possession went missing for over 12 years and were recently returned, anonymously, to park headquarters in Harper's Ferry. Doug has donated original posters to the parks they were created for as well as a set of posters to the Department of the Interior. Recognizing the beauty the original posters depicted, he began a printing business to replicate the posters using the same silk screen method the F.A.P. employed. His goal is to have a National Park poster in every home in America, thus emphasizing the Park's importance and value to our national heritage. He will be bringing samples of the posters to sell at the end of his lecture and has volunteered to donate the profits from any sales to TWOQC's Scholarship Fund. Please plan to join us for this informative lecture.
The Kino Lecture Series is co-sponsored by Quail Creek's Education Committee and TWOQC's Scholarship Committee which annually awards scholarships to senior girls at the two Sahuarita high schools as well as to women in transition wishing to further their education. $5 tickets are available at the Madera Clubhouse Concierge desk (check only) or at the door the night of the lecture (check or cash).