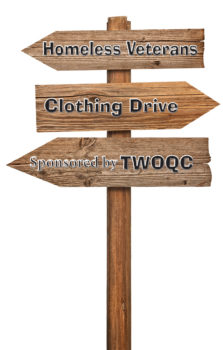 Cindy Mayron
Follow the signs to the VA Homeless Veterans Clothing and Household Goods Drive in the parking lot between the Madera Clubhouse and the Creative Arts and Tech Center.
Drop off your donations on Saturday, Oct. 19, from 9 a.m. to 11 a.m. This is the tenth annual clothing drive sponsored by The Women of Quail Creek.
Only new or gently used clean men's fall and winter clothing will be accepted, such as coats, jackets, sweatshirts, shirts, long pants, shoes (especially tennis or athletic shoes), hats, gloves, new, unopened packages of socks and underwear, and reading glasses. This year, women's clothing will not be accepted.
Also being collected are small kitchen appliances, kitchenware, queen-sized bed linens, lamps, vacuum cleaners, bicycles and accessories, new, unopened toiletries, large plastic storage bin totes with lids, and 2020 calendars. For a complete list, go to womenqc.com/annual-clothing-household-goods-drive.