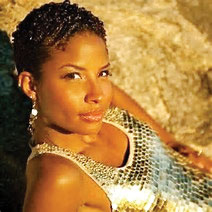 The First Ladies of Song, produced by Khris Dodge Entertainment, starring Crystal Stark, will be presented Monday, March 5, 2018, at 7:00 p.m. in the Madera Clubhouse Ballroom. A Cash Bar opens at 6:00 p.m. Ticket price is $25.
Our Variety Monday Night Series is coming to a close, but we're saving the best for (second to) last! Join us Monday, March 5 at 7:00 p.m. for First Ladies of Song: Aretha, Donna, Ella, Whitney, Tina and more, produced by Khris Dodge Entertainment. The incredible Crystal Stark (To Ella, with Love, In the Christmas Mood) returns to Quail Creek to pay tribute to trailblazing songstresses who made history, musical and otherwise. First Ladies of Song includes the music of Billie Holiday, Mamie Smith, Etta James and Diana Ross in addition to artists who are so iconic only first names are needed – Aretha, Donna, Ella, Whitney and Tina, to name a few.
When powerhouse vocalist Crystal Stark performs, she doesn't just take the stage – she owns it.
The international performer and American Idol semi-finalist got her start singing in her home town of Tucson, Arizona. Her early teachers included famed soprano Faye Robinson and jazz legend Jeff Haskell. After graduating Magna Cum Laude from the University of Arizona with a degree in Music Education, she auditioned for Season 5 of the cultural phenomenon American Idol – along with 100,000 other contestants. Crystal made the top 44 and, although her Idol journey stopped there, she forged a close friendship with season runner-up Katharine McPhee and joined Katharine's national tour as a back-up singer.
Crystal quickly rebounded from Idol by entering and winning Adult Contemporary Vocalist and Best of Show at Gospel Music Association's Music in the Rockies competition. Following that victory, she was asked to perform at Disney World's Night of Joy, a Christian-themed music celebration.
Her subsequent travels have taken her to venues throughout in the United States and abroad and she has shared the stage with such talents as trumpeter Rick Braun and guitarist Matt Marshak. While touring with Katharine McPhee, Crystal appeared on The Tonight Show, The Ellen DeGeneres Show, Regis and Kelly, The Today Show, and Jimmy Kimmel Live, among others. Internationally, she has traveled to Mexico with the University of Arizona's Studio Vocal Jazz Ensemble and did a month-long tour of China with the university's Studio Jazz Big Band.
Today, Crystal enjoys a full performance calendar that reflects the diversity of her wide-ranging talents. In addition to fronting the Crystal Stark Band which plays at venues around Arizona and for corporate functions, she sings with 80s cover band 80s and Gentlemen, vocal trio Triple Threat, the Tucson Pops Orchestra and Big Band Express, among others. Crystal also had the honor of opening for Bob Newhart during a recent concert stop in Tucson. She performs regularly with concert production company Lonely Street Productions, with whom she also traveled to New Orleans for a performance of Celebrating Elvis at the famed Mahalia Jackson Theatre. Her newest show, To Ella with Love – produced with Khris Dodge Entertainment, is a one-woman tribute to the legendary Ella Fitzgerald in which Crystal scats, sings and shows off her instrumental chops.
Her second studio album, One Way, was released on May 30, 2015 – Crystal Stark Day – as declared by City of Tucson mayor Jonathan Rothschild. The album features all original compositions by Crystal and leans heavily on her soul/jazz roots for many of its songs.
When not on stage, Crystal is the Director of General Music, Band and Choir for Esmond Station K-8 school in Vail, Arizona. She teaches general music for more than 500 students in addition to teaching middle school choir and band. Crystal relaxes by hanging out at home with her long-time love, Bill, and her two young sons – the only two people on the planet with as much energy as her.
Cash Bar will remain open through the 15 minute intermission. Beverages purchased at the cash bar are permitted in the ballroom.
Tickets available at QuailCreek.ShoWare.com
All sales final (no refunds or exchanges)