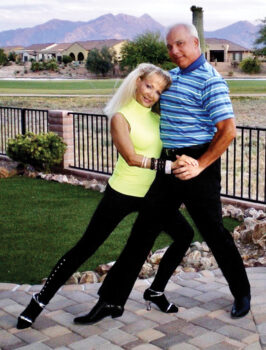 4 Count – Level 1
Known as the 4 Count Swing or the 4 Count Hustle, this is the easiest dance to learn! Danced to a variety of music from the '60s to today.
Thursdays, Jan. 23, 30, Feb. 6, 6-6:55 p.m.
Rumba – Level 1
Learn the basic steps and techniques in the easiest Latin Dance. The music is slow and romantic.
Thursdays, Feb. 13, 20, 27, 6–6:55 p.m.
Couples only. Each course is $30 per person. Space is limited. Pre-payment required. Sorry, no prorating or refunds.
Singles, if you need a partner, please contact Kathi.
Private and semi-private lessons available by appointment.
All classes taught in the Anza Cholla Room.
To register, please contact Kathi Bobillot, [email protected] or 520-777-7077, www.2LeftFeat.com.