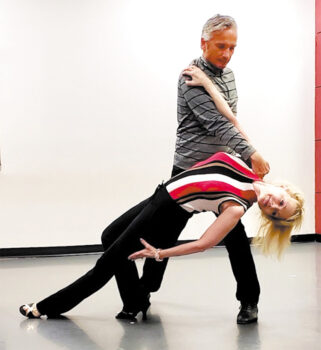 Kathi Urban
1. 4 Count – Level 1
Known as the 4 Count Swing or the 4 Count Hustle, this is the easiest dance to learn! Danced to a variety of music from the '60s to today.
Thursdays, Jan. 23, 30, and Feb. 6, 6–6:55 p.m.
2. Rumba – Level 1
Learn the basic steps and techniques in the easiest Latin Dance. The music is slow and romantic.
Thursdays, Feb. 13, 20, and 27, 6–6:55 p.m.
3. Single-Time East Coast Swing – Level 1
Also known as the Jitterbug, this is danced to the popular music of the '50s and '60s. You will use this at all of the Quail Creek dances.
Thursdays, March 5, 12, and 19, 6–6:55 PM.
4. Classes for More Experienced Dancers
If you are beyond the Beginning Level and want new steps/more technique, contact Kathi to organize a group class to work on any dance, any level.
Couples only. Each course is $30 per person. Space is limited. Pre-payment is required; sorry, no prorating or refunds.
Singles, if you need a partner, please contact Kathi.
Private and semi-private lessons are available by appointment. All classes are taught in the Anza Cholla Room.
To register, please contact Kathi Bobillot at [email protected] or 520-777-7077; www.2LeftFeat.com.