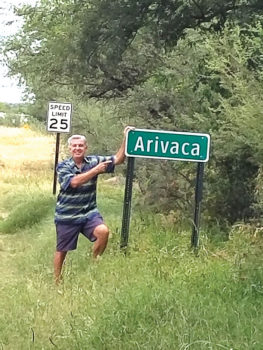 Davey Jones
Davey Jones visited Arivaca recently to locate a suitable prize for the latest murder mystery dinner show. If you can follow along with this outrageously funny show, you may become a winner. Packed house audiences have enjoyed many of these shows including Betrayal in the Jalapeno Cantina and Afterlife, After Death, After Dinner and others. This will be the tenth show written and produced by Davey. It promises to make you laugh (and groan) as much as past performances, with music made famous by the following artists: Bee Gees, Petula Clark, Journey, Madonna, Judy Collins, Olivia Newton-John, Harry Nilsson and The Ronettes.
In line with the theme of the show the dinner will be Roadkill! Actually, our renowned chef has come up with the following two course meal: chicken stuffed with spinach and manchego cheese with a chimichurri sauce on top, fried smashed potatoes with herbs and fire roasted baby carrots; for dessert, dulce de leche empanadas.
Quail Creek favorites Pam Campbell, Cyndy Gierada, Mike Vance, Sandi Hrovatin and Davey himself will depict the zany characters who have yet to enter the 21st Century. They are joined by two talented actors from Green Valley: Claudia Andrews and Christine Bohannon. The Arivaca animal control officer has already been murdered and someone is now in custody. But is this the real culprit? Can you keep track of the coming events and successfully complete a solution form winning a prize that could be life-changing?
Tickets for the show and dinner are on sale through the Quail Creek Clubhouse and on the POA website. Dinner and the show will be just $27 per ticket for shows on Sunday, Monday, Tuesday, February 11, 12 and 13, 2018 with a starting time of 6:00 p.m. promptly. A cash bar will open at 5:00 p.m. There will be 20 tables of eight seats and the partition will once again be closed adding to the intimacy of the show. Past murder mysteries have sold out, so get together with friends and join us for an evening of fun entertainment. FYI: Since the performance is presented downstage (the front), tables at the end of each row have great views of the action.