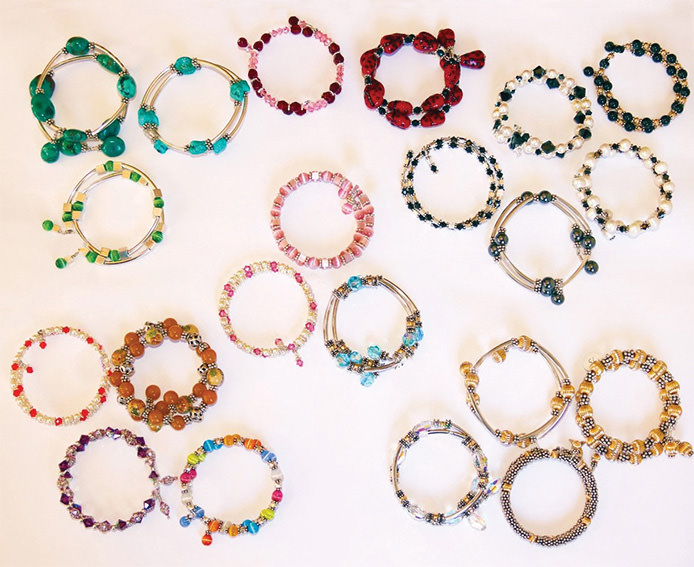 Ginney Hutcheson
Circle of Hope Bracelets symbolize "Hope, Optimism, Peace of Mind, and Enthusiasm for Life." They are sold to raise dollars for the American Cancer Society to fund cancer research. The crystals, gems, stones, and beads with gold and silver fillers are secured on memory wire. The no clasp bracelets wrap around the wrist for ease of wearing. The bracelets are sold in Quail Creek by the Quail Creek Fights Back Relay For Life Team. To purchase the bracelets at any time, contact Ginny Hutcheson at [email protected] Prices range from $17 to $95, and 100% of the sale goes to the American Cancer Society.
For more than 12 years, a variety of Circle of Hope Bracelets have been sold to the women in Quail Creek to benefit the Susan Komen's Rally for the Cure and the American Cancer Society's Relay For Life team efforts to raise dollars for cancer research. Some ladies faithfully purchase a new bracelet every year. Some buy them for gifts. Cancer survivors might purchase a bracelet in their cancer color. A birthstone bracelet makes a beautiful gift for a grandchild or friend. The bracelets are more than jewelry. Often there is an emotion involved, such as remembering a loved one, a new cancer journey, friendship, or joy.
Until now, 30% of the sales would go for cancer research and the rest of the dollars would go back to Circle of Hope in St. Louis to purchase supplies for more inventory. This summer, 300 bracelets were given to the American Cancer Society. The 2021 Relay For Life Team has their approval to sell the bracelets to help reach the team's $25,000 fundraising goal.