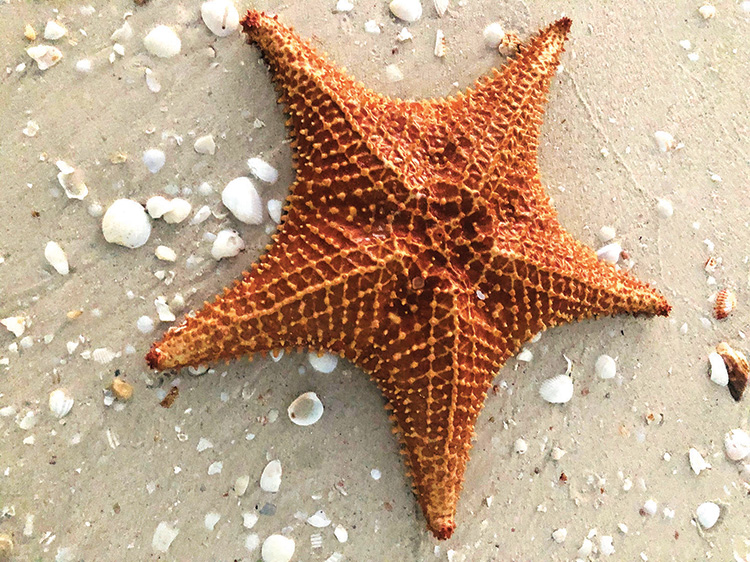 COVID Life
Monte Hudson
I had the pleasure of reading The Highest Tide by Jim Lynch recently. It's a story of a young boy in his adolescence and his love of the ocean and the discoveries he makes about it. As well as great storytelling, it's a learning experience about the ocean and it's creatures. I decided to write to the author to comment on the ending of the book and how much I enjoyed reading it. To my pleasant surprise, he answered me back! Nothing like having a book club with the author himself!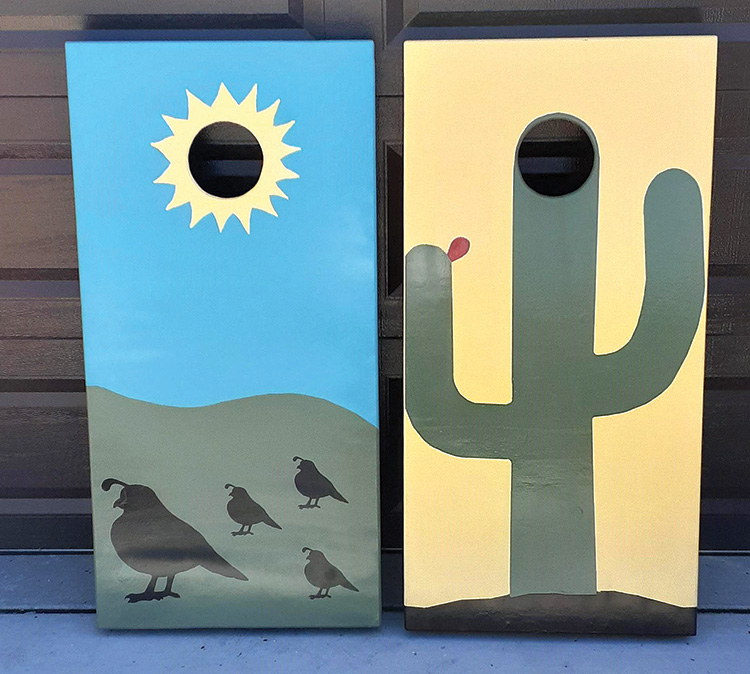 Corn Hole Boards Craft During Quarantine
Jim Lauffenberger, Unit 33B
Hello all,
Here is a picture of my quarantine craft. I have been wanting to get them done for a while, and this provided the perfect time for me to do just that. I think I captured the Arizona spirit quite well. What do you think?
Happy tossing.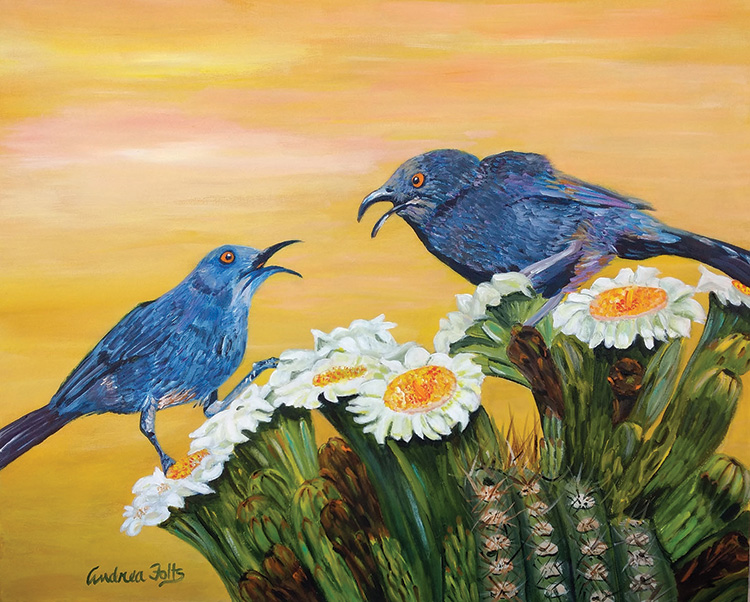 Painting in Quarantine
Andrea Folts
"Thrush in Saguaro" is a 16" x 20" acrylic on canvas.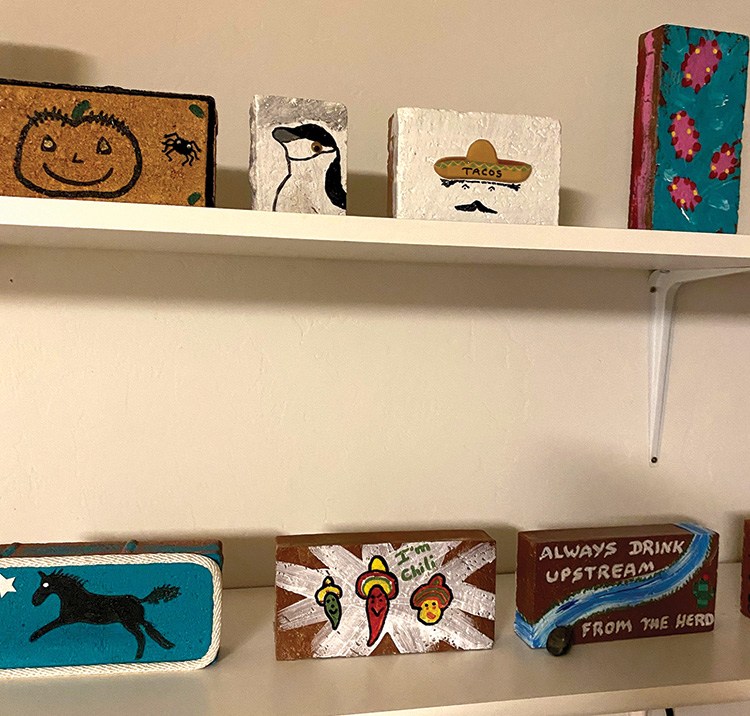 Doings During Quarantine
Marci Yenerich
Besides my craft of painting and decorating over 100 bricks, I am obsessed with cleaning out an accumulation of twelve years living in my Laredo. I am happily moving to a new series two villa here in Quail Creek later this year. In doing so, I am donating household items to Goodwill and the Animal League. I'm using Quail Creek's "Items For Sale" to sell a few items, and I am shredding old files and trying to discard things mysteriously saved to Waste Management. Once in a while I give things away, with pleasure. I will participate in the garage sale on November 12, to part with the last of my treasures. This has kept me busy in between rounds of golf.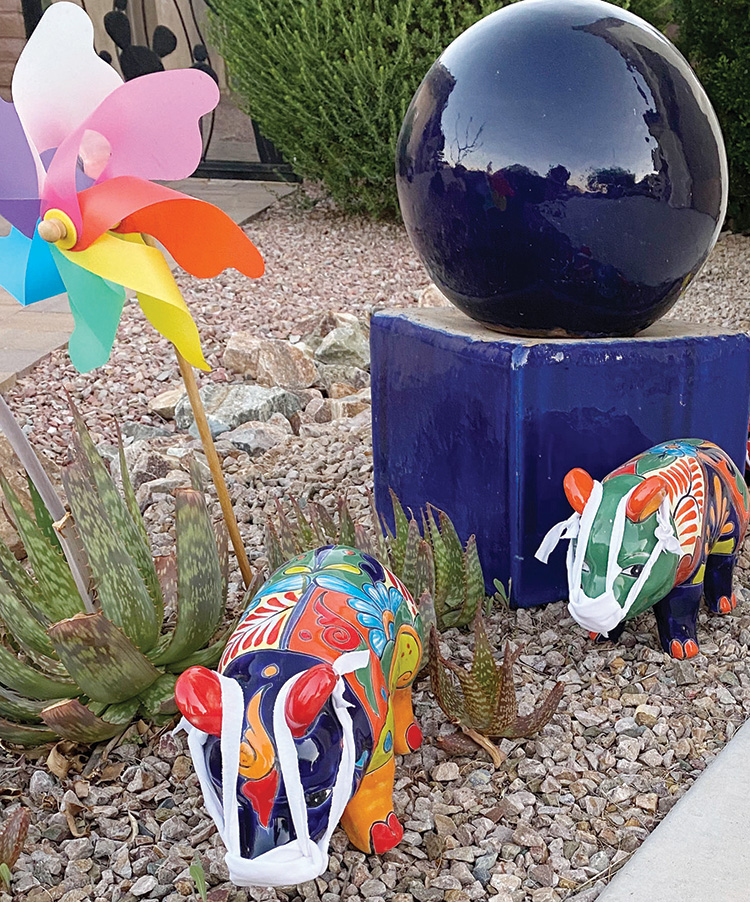 COVID Pigs
Monte Hudson
This photo was taken on Madera Plateau.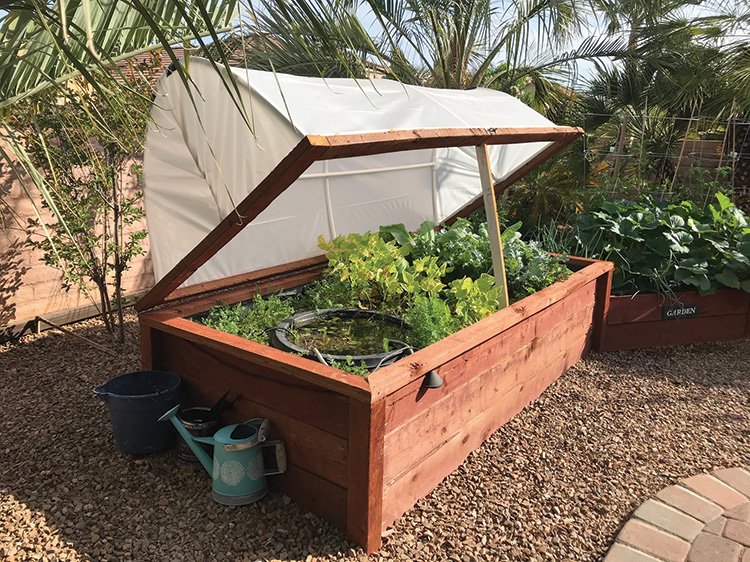 Creating a Veggie Garden During the Quarantine
Jeff and Myra McCune
We created a veggie garden during the quarantine—we planted potatoes, broccoli, tomatoes, green beans, spinach, various lettuces, squash, and peppers. This past week, we feasted on spinach, salad, and squash. It's so much fun watching plants grow, and the best part is eating what we toiled over.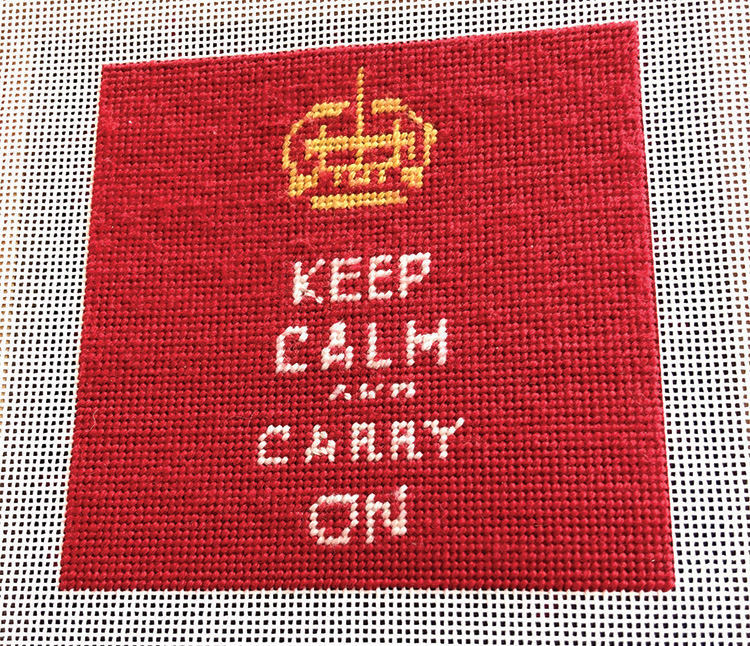 Keep Calm and Carry On
Connie Vaughan
I took a trip to London years ago and everywhere was the signage, "Keep Calm and Carry On."
So, I completed the attached needlepoint during quarantine that I think is so apropos.
What I Have Been Doing During Quarantine
Laura Colbert
Approximately twice a month during the school year, I am a volunteer reader for a second-grade class at Anza Trail School in Sahuarita.
When the coronavirus shut everything down, the teacher I work with had to do her lessons online. That meant I wouldn't be reading to the children in person. With guidance from this teacher, I was able to video myself several times reading different books to these children and giving them a challenge pertaining to the subject of the book.
I would send the video to the teacher and she would then forward the video to her students.
The children enjoyed it, as did the teacher, and I was thrilled to be able to help out with the children's education.
Crafts During Quarantine
Beth Pabst
I can't say it was a fun craft, but I stayed busy making masks—398 to be exact! I helped a friend make receiving blankets for the military baby shower. I also walked about three miles each day.