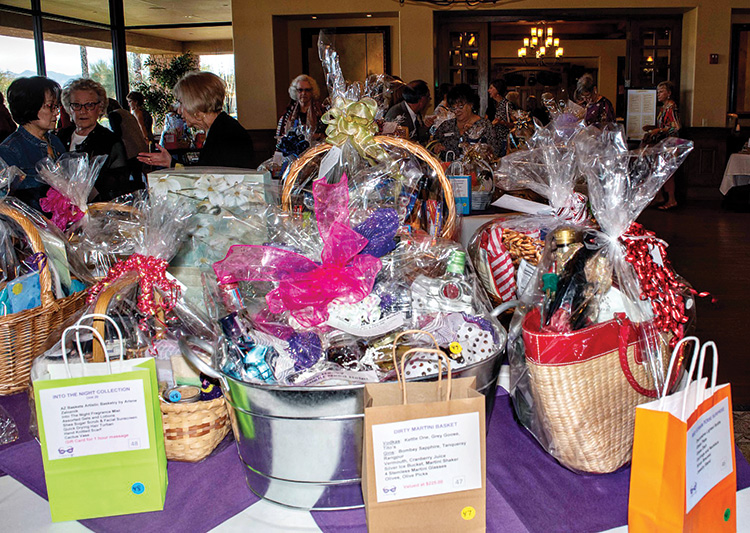 Diane Gordon
The Women of Quail Creek's (TWOQC) Fashion Show for the American Cancer Society was a roaring success! Approximately 300 women enjoyed ten cancer-survivor models showing them gorgeous clothing from Nancy Pantz, which is located in the Continental Shopping Center. The women enjoyed a yummy salad lunch prepared and served by the Quail Creek Food and Beverage staff. In addition to the lunch and fashion show, there were 67 amazing raffle baskets to win and 40 silent auction items to bid on. This year, a 60-20-20 money raffle was available. The American Cancer Society received 60% of the pot and Silvia Perry and Sandy Beecher each received 20% of the pot. That came to $1,367 for the American Cancer Society and $449 for each of the women. After everything was tabulated, the event raised nearly $20,000 for the American Cancer Society. Present to hear the great news were Denis Cournoyer and his team from the American Cancer Society, as well as many esteemed sponsors.
TWOQC sends a thank you, many times over, to the expertly organized, creative, and fun-loving Fashion Show committee members. Thank you, also, to our beautiful models, all of whom are cancer survivors. Thank you, finally, to the many participants who contributed to the cause. Lives are better because of your generosity.
The dollars raised at the fashion shows are part of the Quail Creek Fights Back Relay for Life Team fundraising. This relay team was formed in 2010 and now has 22 members. Seven years ago, they started the Fashion Show as a major fundraiser. In 2019, The Women of Quail Creek adopted this fashion-show fundraiser in support of the relay team and the funds raised in 2019 and 2020 are part of the relay team's contributions to the American Cancer Society. This relay team currently is the top fundraiser in the Green Valley/Sahuarita's American Cancer Society community. Over the years, this team has raised more than $175,000 to fight cancer.