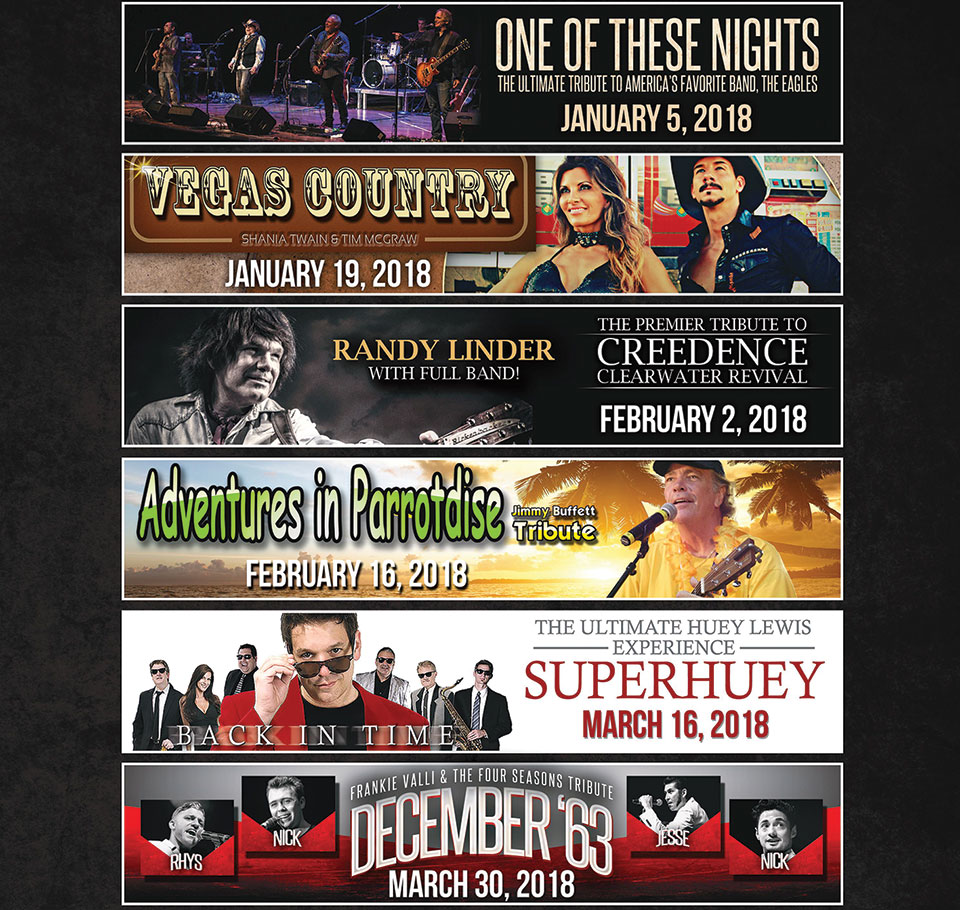 Packages will be available up until January 1, 2018. Individual tickets on sale July 11 at $27.
Friday, January 5, 2018, 7:00 p.m. – One of These Nights – The Eagles Experience
One of These Nights promises exactly that—an unforgettable night featuring the music of the Eagles – one of the most successful rock bands of all time! One of These Nights takes the audience on a journey through all the Eagles' sounds from tasteful country rock, complete with full harmonies, to hard rocking tunes that highlight the Eagles' extraordinary catalogue.
The show features the band's greatest hits like Hotel California, Desperado, Lyin' Eyes, Life in the Fast Lane, Take It Easy, Already Gone, One of These Nights and many others – all presented in a highly entertaining production with uncanny accuracy. It was these and other Eagles' tracks that earned the band seven No. 1 singles, six Grammys, five American Music Awards and six number one albums.
John Waxman and JD Madrid have teamed up with fellow stellar musicians to create one of the best sounding Eagles' tribute bands touring today. Recognized for their uncanny accuracy to the original, One of These Nights is a pure and simple tribute to the Eagles!
http://tadmgmt.com/tadshow/ootn/
Friday, January 19, 2018, 7:00 p.m. – Vegas Country
Donna Huber is the world's No. 1 tribute to Shania Twain! So much so that Shania herself said, "I thought that was me for a moment—she's the best one!" Close your eyes and it's just like being at a Shania concert!
This Tim McGraw tribute performed by Nashville recording artist and Las Vegas entertainer Adam D. Tucker accurately recreates the music and mystique of country music icon Tim McGraw. The timeless sound of Tim McGraw proves appealing to audiences of all ages, bringing back memories and touching the hearts of all. This talented group of musicians showcase Tim McGraw's' mega-hits from the 90s such as Don't Take The Girl, I Like It I Love It, Everywhere and his current radio hits of today!
When you pair Adam with the best Shania show out there, you have two Nashville legends in the house!
http://vegascountryshow.com/video-music.html
Friday, February 2, 2018, 7:00 p.m. – Randy Linder's Tribute to Creedence Clearwater Revival
Randy Linder is recognized as one of the nation's premier tributes to John Fogerty, the voice behind the unmistakable and popular sound of Creedence Clearwater Revival. Performing from Seattle to New York, also in Las Vegas and further south, Randy and his fabulous band have entertained audiences with hits like Born on the Bayou, Proud Mary, Down on the Corner, Susie Q, Who'll Stop the Rain and many more. This act reproduces these songs with the same energy and passion that the original band had when Randy attended his first concert in 1969 and saw CCR live. Randy has been a performer since that time and his vocal style, lead guitar and blues harp have been greatly influenced by John Fogerty.
http://tadmgmt.com/ccr/randy-linder
Friday, February 16, 2018, 7:00 p.m. – Adventures in Parrotdise – The No. 1 Tribute to Jimmy Buffett
Adventures in Parrotdise is a full production tribute show dedicated to the music of Jimmy Buffett featuring members of Jimmy Buffett's Coral Reefer Band.
Jimmy Buffett is the world's most famous beach bum.
He has marketed his love of beaches, bars, boats and ballads into a billion-dollar business. He has sold more albums and filled more concert venues than most musical superstars. He has written best-selling books and has a string of successful Margaritaville store/cafes. Buffett's fans are affectionately known as Parrot Heads. They are found in every demographic and walk of life and are among the most loyal fans in the world. The tropical appeal and state of mind known as Margaritaville exists in all of us. It may be the lure of the tropics or some other "parrotdise" wherever; Jimmy's music can take you there and so can this show.
Barrie has been performing Buffett's music for almost as long as Buffett himself. He has also traveled many of the same roads and even played some of the same places Jimmy played on his road to fortune and fame. He takes the showgoer on a musical tour through an "All you can eat Buffett." Barrie sings all the songs you know by heart like Come Monday, Cheeseburger in Paradise, Changes in Latitudes, Changes in Attitudes and the national anthem of all Parrot Heads, Margaritaville. He also performs songs Jimmy recorded like Van Morrison's Brown Eyed Girl and the C, S, N&Y's nautical hit Southern Cross as well as contemporary hit recordings like his duet with Alan Jackson, It's 5 O'clock Somewhere and Zac Brown's Knee Deep. Jimmy Buffett Coral Reefer Band member and alumni Roger Bartlett (original duo partner and lead guitar player with Jimmy Buffett) is featured in the show making this the most credible and authentic Buffett tribute show anywhere. Other Coral Reefer Band members that can appear include Mike Utley, Robert Greenidge, Doyle Grisham, Amy Lee, Fingers Taylor, TC Mitchell and others depending on their tour schedule with Jimmy. According to the Coral Reefers, "Adventures In Parrotdise is the next best thing to being at one of Jimmy Buffett's concerts."
This is the only Jimmy Buffett tribute show to play an indefinite engagement in a main showroom at a major Las Vegas hotel/casino. It is also the first choice for major corporate events at Jimmy Buffett's Margaritaville-Las Vegas.
Not a Parrot Head? You will be when this show is over. Fins up!
https://www.youtube.com/watch?v=dFuWittimgg
Friday, March 16, 2018, 7:00 p.m. – Super Huey – The Ultimate Huey Lewis Experience
Super Huey – The Ultimate Huey Lewis Experience – is the only show of its kind anywhere in the nation. With their super high-energy faithful renditions of feel-good music that defined a generation, Super Huey is a seven-piece explosion of 1980s rock power that has performed across the United States.
Huey Lewis and The News have carried the banner as the quintessential American rock band – endeared by millions of fans and earning them the right to mark their place in pop music history. With a nearly unbroken string of hit songs, their music became the soundtrack for a generation. During the 1980s and early 90s they scored a total of 19 top-ten singles across the Billboard Hot 100, Adult Contemporary and Mainstream Rock charts.
Grab your 501 jeans, Ray-Bans, linen sport coat and skinny tie because you're goin' back in time with SuperHuey!
http://tadmgmt.com/superhuey-2/
Friday March 30, 2018, 7:00 p.m. – December '63 ~ A Tribute To The Original Jersey Boys
The music of Frankie Valli and The Four Seasons comes to life in this one-of-a-kind concert experience. December '63 showcases all your favorite songs from Frankie Valli including the classics that have been thrilling audiences for decades along with the most popular singles from the Broadway blockbuster musical, The Jersey Boys. This re-creation of a Frankie Valli and The Four Seasons concert will have you reaching for the high notes as our cast and band take you on a musical journey with stops at every phase of the careers of Frankie and the boys!
In 1962, the group released their first album, featuring the single Sherry, which was not only their first charted hit but also their first number-one song. The Four Seasons followed up Sherry with several million selling hits including Big Girls Don't Cry, (their second No. 1 hit), Walk Like A Man, (their third No. 1), Candy Girl and several others. From 1962 to early 1964, only The Beach Boys matched the Four Seasons in record sales in the U.S.
The Four Seasons were inducted into the Rock and Roll Hall of Fame in 1990 and joined the Vocal Group Hall of Fame in 1999. They are one of the best-selling groups of all time having sold 175 million records worldwide.
Come out and enjoy a night of timeless classics!