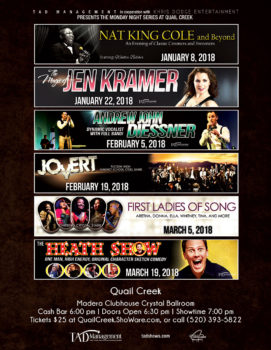 Quail Creek Country Club 2018 Monday Night Variety Shows Series presented by TAD Management and Khris Dodge Entertainment begins a new season (series).
Tickets on sale May 30 through June 30; Rows A through D – $144 per person; Rows E through Q – $138 per person. Individual tickets on sale July 5 at $25 each.
Monday, January 8, 2018, 7:00 p.m. – Nat King Cole and Beyond starring Warren Belcher (Dodge Entertainment)
International performer Walter Belcher has brought this acclaimed show to stages across the world. Nat King Cole is known for his sultry baritone voice, a signature sound and signature songs. This show has all of that plus more. It goes beyond the expected and pays tribute as well to many artists that have been inspired by Nat. From Cab Calloway to Stevie Wonder, Walter sings a tour de force to be reckoned with. And yes, expect an Unforgettable evening of song.
https://www.youtube.com/watch?v=SuhztzPZRRw
Monday, January 22, 2018, 7:00 p.m. – Jen Kramer – Vegas Magician (TAD)
One of America's most celebrated young magicians, Jen has been wowing audiences around the globe for over a decade with her contagious smile and world-class sleight-of-hand. A recipient of the prestigious Merlin Award, Jen was named 2016 Female Magician of the Year by the International Magicians Society. She currently headlines her regular show at Wyndham's Grand Desert Resort and Marriott's Grand Chateau in Las Vegas.
Jen graduated with honors in Theater from Yale University, where she served as Founder and President of the Yale Magic Society. Her performances are full of comedy, audience participation and jaw-dropping fun. Magic legend David Blaine called Jen "hugely gifted" and described her as "one of the most talented and most promising young magicians anywhere." As a fun fact, in addition to English, Jen speaks French, Spanish and Swahili and has performed magic in all of these languages.
Monday, February 5, 2018, 7:00 p.m. – Andrew John Diessner (TAD)
Andrew John Diessner is a versatile Tenor who grew up as an instrumentalist. Playing many different instruments (guitar, double/electric bass, violin, piano) he came to love multiple genres of music. When he switched his major in college at the age of 21 from Bass to Voice, he fell in love with the art of Opera and classical music. Continuing to train in classical voice, he discovered the power in his voice could soar through many styles. Out of college, he went on to perform all over the world singing musical theater, jazz, opera and rock. This show tells his story and growth through music from when he was a young musician to his current success as a singer.
"Music gives a soul to the universe, wings to the mind, flight to the imagination and life to everything." – Plato
Monday, February 19, 2018, 7:00 p.m. – Jovert Steel Band (Dodge Entertainment)
Get ready to have your minds blown. The music of this steel drum band is amazing. Energetic and uber-talented youths from Tucson bring a performance unlike any you have ever seen or heard. Acclaimed nationally and internationally as one of the best steel drum bands, Jovert will entertain you with a wide variety of music that promises to keep you dancing throughout the night. The band never disappoints and you will be inspired by the talent, sincerity and energy of these young stars. We have no doubt that this will be one of your favorite shows of the year.
https://drive.google.com/file/d/0ByD1gnhApxP2QklON3l3WW5kS2c/view
Monday, March 5, 2018, 7:00 p.m. – The First Ladies of Song starring Crystal Stark (Dodge Entertainment)
Aretha Franklin, Ella Fitzgerald, Whitney Houston, Donna Summer, Tina Turner—all of these artists have taken the stage and the world by storm with their powerful voices and incredible charm. Crystal Stark, a vocal powerhouse in her own right, brings to life the brilliance of these artists with songs that make you smile, laugh and cry. An American Idol semi-finalist, Crystal is a rare talent that has talent and charisma that just doesn't stop. She leaves you always wishing the show would never end.
https://www.youtube.com/channel/UC8qxKWFfC0fUh2NJFBPYU5A
Monday, March 19, 2018, 7:00 p.m. – The Heath Hyche Show (TAD)
Get ready for The Heath Show! A one-man, high-energy, comedic adventure! Heath uses stand-up comedy, quick-change costumes, original music, sound effects and cleverly constructed props and scenery to take the audience on a journey through his vivid imagination and meet a cavalcade of manic characters. Heath Hyche's TV credits include The Tonight Show with Jay Leno, Last Comic Standing and two seasons on Blue Collar TV alongside Jeff Foxworthy, Larry the Cable Guy and Bill Engvall. On the big screen, Heath appeared in the films Man on the Moon with Jim Carrey and in Will Ferrell's Talladega Nights.