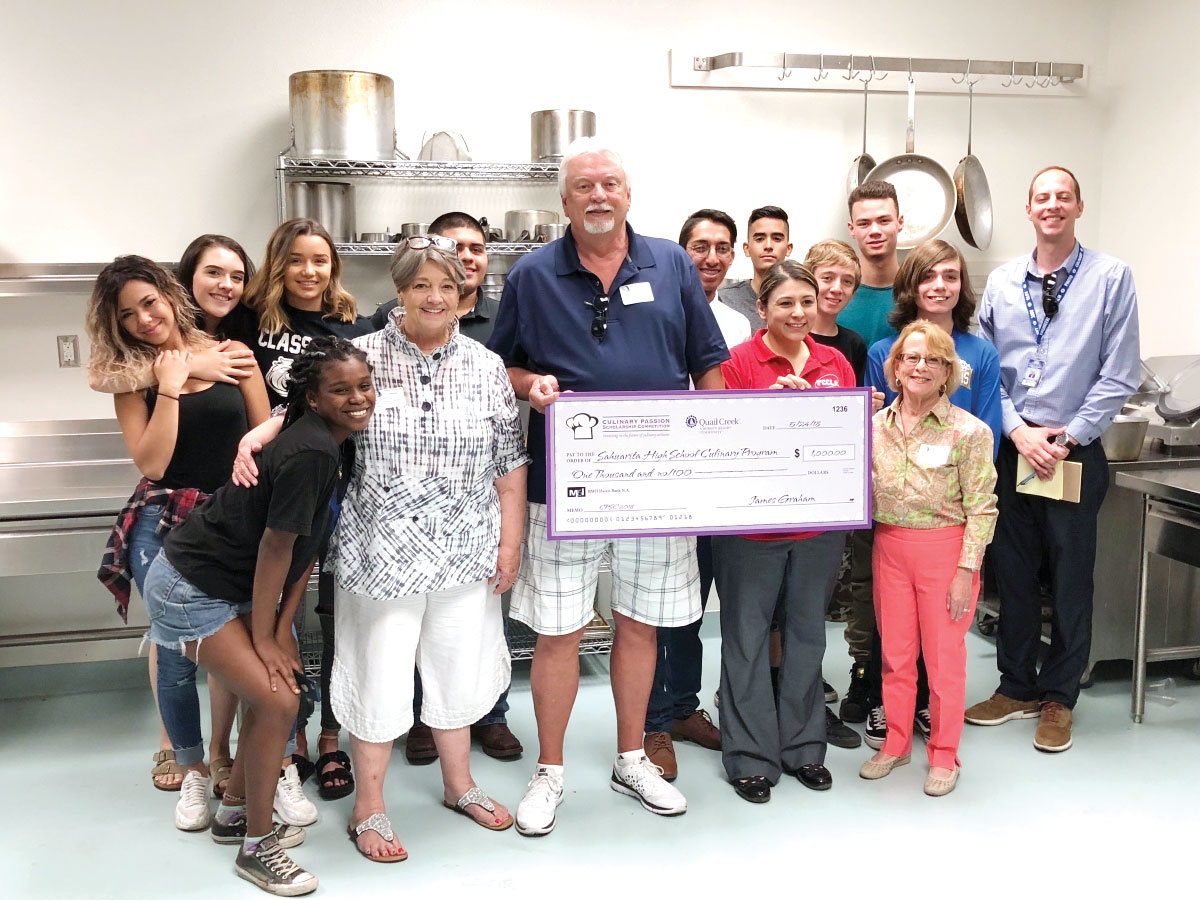 Cindy Mayron, Media Relations, Quail Creek Food & Beverage Committee
Jim Graham, Carol Smith (members of the Quail Creek Food & Beverage Scholarship Committee) and Connie Bandstra (Property Owners Association board member) presented a check for $1000 to the Sahaurita Culinary Program for 2018. In 2016 the committee sponsored a student culinary competition and silent auction. Two scholarships were awarded in 2017 to two Sahuarita School District graduating seniors who planned to enroll in postsecondary studies in a culinary or hospitality program.
"In 2015 our committee was inspired by an article in the Green Valley News about a baking competition the Sahuarita culinary students participated in. We thought it was a natural fit for our committee to support these students from Sahuarita and Walden High Schools," said Jim Graham, Food & Beverage Committee chair.
Due to the ongoing remodeling and construction of the Quail Creek Grill since last summer, we didn't hold a fundraiser this year. The Quail Creek community has been invested in this program and for the future success of these culinary students," he added.
The Culinary program is open to Sahuarita High School and Walden Grove High School sophomore, junior and senior students. The 2017-18 program had 115 students. It is a two-year program, with an optional third year where students can earn a Food Handler Card. "We are working on offering the ServSafe Food Protection Manager in the future. Students have the option to participate in FCCLA, a career and technical student organization, also known as a student club. In the club they participate in fundraising activities such as catering events. They also attend leadership training workshops, state and national competitions as well as social events. Students also compete in ProStart competitions for a chance to earn scholarships at various culinary schools," said Josh Fields, Sahuarita Unified School District Career & Technical Education Director.
"We are sincerely grateful to the Quail Creek Food & Beverage Committee for their continued support of our Culinary Program. This partnership is a model in the Green Valley/Sahuarita community for the ways the local community can positively impact students in Sahuarita Unified School District. From this generous donation we will be able to purchase necessary supplies such as chaffing pans, professional knife sets and other miscellaneous supplies," Fields added.
The committee is already in the planning stages for the 2019 fundraiser. "We are looking forward to an exciting and unique event next year that will award scholarships to deserving graduating seniors," said Carol Smith, Scholarship Committee Chair.