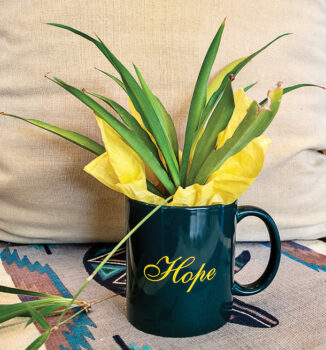 Bobbi Gordon
Everywhere you go lately, you have been hearing members of The Women of Quail Creek (TWOQC) talk about YANA. You might ask, "What in the world are they talking about?" Committee members Bobbi Gordon (chair), Clarice Sullivan, Pat Neel (advisor), Janice Messer, Laura Colbert, and Peggy McGee will enthusiastically tell you. YANA, the newest TWOQC program, is a resource group committed to serving club members who have lost a loved one or are caregivers of a terminally ill loved one.
In 2019, YANA grew from a desire to help TWOQC members manage the emotional trauma and logistical details after the loss of a loved one. The journey began when committee members met with fellow TWOQC members Kris Wollard, Peggy Wyatt, and Lily Guthrie, who have assisted others in dealing with loss. Through these ladies' efforts, YANA grew into a program that offers understanding, comfort, a library of information, and user-friendly resources to help TWOQC members get through the grieving process in a healthy and productive way. Informational resources include a quick checklist of immediate things to do, a comprehensive checklist of things to be done as time passes, suggestions on how to take care of one's self, how to handle financial matters/budgets, and frequently asked questions dealing with loss and grief.
When the program team reaches out, a spider plant named Hope, who lives in a special coffee mug that displays TWOQC's logo on one side and the word "Hope" on the opposite side, will be given to the grieving member. Along with instructions for taking care of Hope, the attached message reads, "As I mature, I will offer you cuttings so if you know someone who needs me, please share. My name is Hope."
To learn more about YANA, or if you are a TWOQC member in need of information dealing with the loss of a loved one, please contact Bobbi Gordon at yana@womenqc.com.