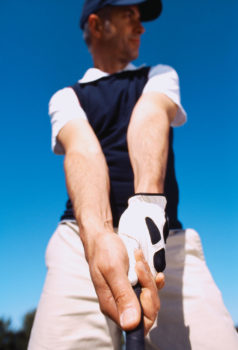 A Wellness Presentation, Bio-Mechanics and Golf by Trevor Brown, Clinic Director – PT, DPT, Athlon Physical Therapy, will take place November 13, 2017 at 10:00 a.m. in the Madera Clubhouse Crystal Ballroom
Trevor has lived all over the country, including New Mexico, Alabama, Minnesota, New York and Arizona. It is in Arizona where he received his Bachelor of Science in Kinesiology from Arizona State University in 2010 and his Doctorate in Physical Therapy from Midwestern University in 2014.
Following graduation, he relocated to Tucson, his wife's hometown, where he joined the Athlon team. Trevor believes that a physical therapy program should be individually tailored and address all aspects of a patient's life to help them reach their fullest potential. He enjoys helping his patients return to their former self and activities, be it sports, hiking, gardening, traveling or just spending time with friends and family.
Trevor is an avid, enthusiastic sports fan and a former competitive swimmer, all of which spurred his interest in aquatic therapy, sports medicine, orthopedics and Rock Steady Boxing. In 2015, Trevor got certified by Rock Steady Boxing for Parkinson's (non-contact regimen) and later transitioned into the Knock Out Parkinson's program here at Athlon. He enjoys helping others become empowered to fight back against Parkinson's disease. Furthermore, Trevor is Titleist Performance Institute Certified (TPI). Using TPI's physical assessment screen, Trevor is able to prescribe proper rehabilitation techniques to get players back in the game of golf. In addition to sports, Trevor enjoys spending his time off with his wife, new baby girl and two dogs as they lead a healthy and active lifestyle.
Education: Midwestern University, Glendale, Arizona; Doctor of Physical Therapy, May 2014; Arizona State University, Tempe, Arizona; Bachelor of Science, Kinesiology, December 2010
As always all Wellness Presentations are free and everyone is welcome. A Q and A will follow.