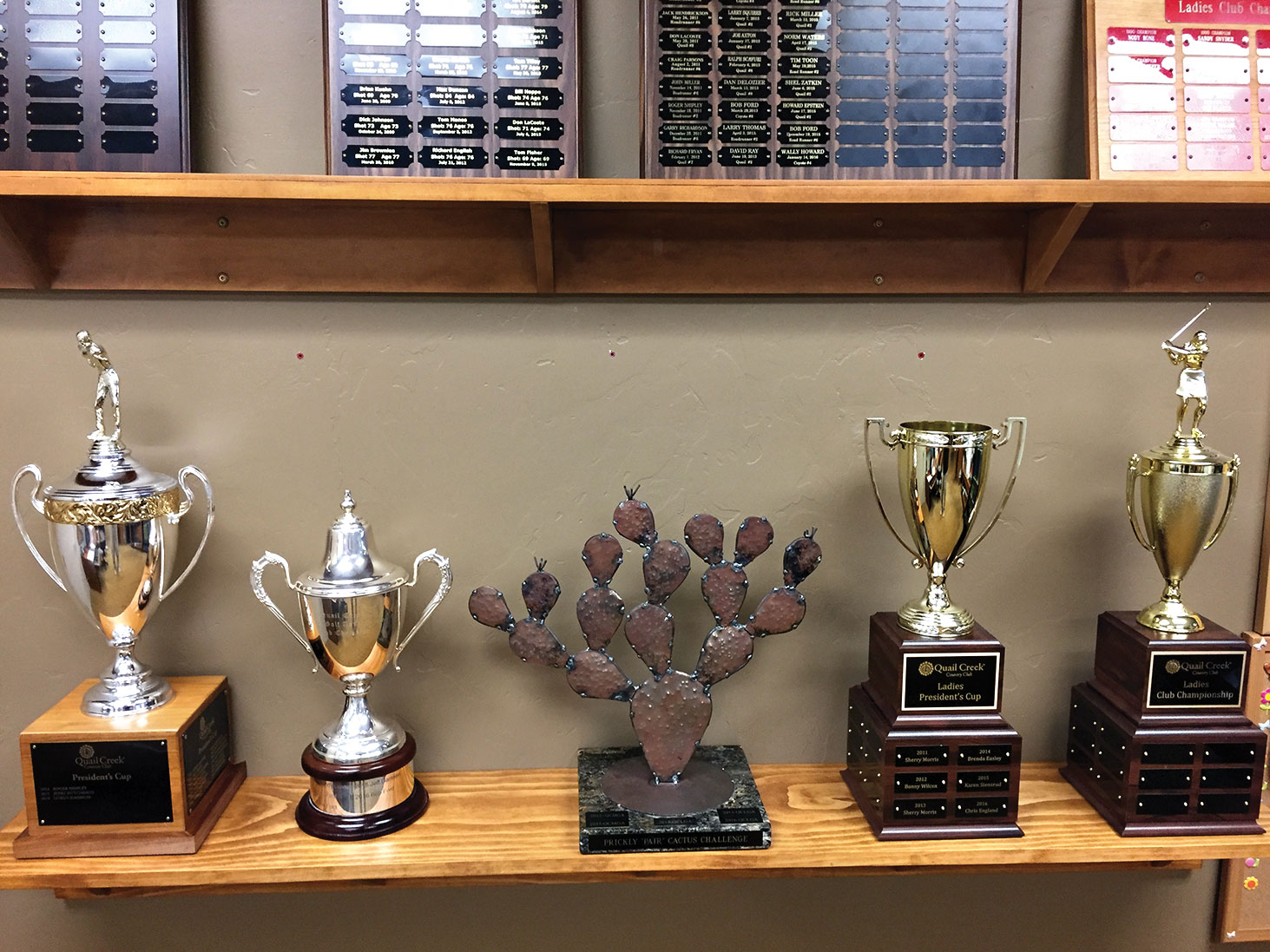 Tim Phillips
How would you feel if you didn't have a place called home? The four main trophies for competition in the 18 hole Ladies and 18 hole Men's group have been in limbo for several years finding no real resting place as they wait for their competitive event to be played once every year.
Finally, these wandering minstrels have found their long searched for home in the Trophy Room on a new permanent shelf plus the Prickly Pair Trophy – a more recent addition. These major event trophies include the 18 hole Club Championship and President's Cup trophies for both the men and the ladies that can only be won over three days of competition. The Prickly Pair Trophy represents the winner of a competition between the 18 hole men's and ladies' groups held annually.
Finding an appropriate residence has been debated for several years with different locations to house them on the property proposed by the POA Board. None of the options were deemed to be acceptable to the QCMGA or the QCLGA. They needed to be located where the golfing membership could easily view them.
At last Joel Jaress, our club professional, decided that the whole clutter of plaques and trophies from virtually every golfing association needed to be reorganized in the small room in the Pro Shop where your scores are inputted into the computer. Earlier this summer the first steps were taken to make this area more hospitable to viewers that included a new paint job and reorganization of the different winners' plaques being displayed. The final step was to build an acceptable shelf for the major trophies to be stored. Now, if you have been fortunate enough to win one of the trophies displayed on the wall, your name will be readily found.
Thanks to Joel for his perseverance. Welcome home, major trophies; you have had a long wait!