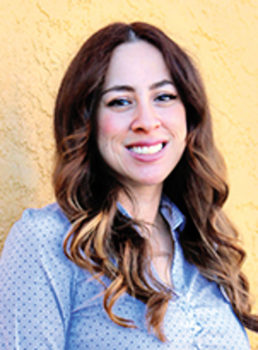 Cindy Mayron
Daniela Zasa, of YOTO, will speak at the Democratic Club of Quail Creek meeting on Saturday, December 16, 3:00 p.m., at the Kino Center Ocotillo Room. The public is welcome to attend.
Zasa graduated from the University of Arizona with a Bachelor's of Science in Molecular and Cellular Biology. "As a science teacher working at Title I schools, I worked with youth who were experiencing economic challenges and unstable home environments. I saw the lack of stability and support impacting my students' ability to focus and do well in school," she said. YOTO was there to support some of her students and she saw firsthand the impact that the program can have on the success of homeless and unaccompanied youth.
This inspired her to leave her teaching career and join YOTO in 2015 as a Program Coordinator. She now is a Program Manager and works to ensure programs and processes are the best they can be for the students the organization serves on a daily basis. She is currently pursuing her Master's degree in Nonprofit Leadership and Management at Arizona State University. "From my teaching career I tried to inspire youth to be excited about learning and to understand the importance of education. I saw the many challenges that these students face every day and how this impacted their success in completing school," she said. "We are hoping to give each of our students one $25 gift card (Walmart, Fry's or Target) and a blanket this year for Christmas."
YOTO, founded in 1986 by Ann Young, is a dropout prevention program that supports the high school graduation and continued success of homeless, unaccompanied youth in Pima County. Young, a guidance counselor at Amphitheater High School, became concerned about the increasing number of homeless students. Her initial idea was to buy a home for a group of homeless teenage girls. She presented this proposal to a group at St. Andrew's Presbyterian Church dedicated to assisting Tucson's homeless community. Soon, Young had an army of volunteers and raised $80,000 in a single morning.
The money funded a group residence for homeless girls, St. Andrew's Friendly Environment (SAFE) House; it quickly became apparent that SAFE House was not large enough to accommodate all of the students who needed services. An unexpected check from a New York City charitable foundation launched a stipend program to increase the aid to homeless teens. The SAFE House, which closed after two years, encouraged her to apply for grants: At this point, it was known as the Pima County Homeless Teen Project — a marketing specialist later dubbed it Youth on Their Own — and Young then applied for YOTO to become a full-fledged 501(c)(3) nonprofit foundation. YOTO won a grant from Angel Charity for $100,000 for the stipend program in 1990. Since then, over 16,000 homeless and compromised students have been empowered to stay in school and pursue opportunities for self-sufficiency.
Next meeting January 20: Guest Speaker Andrea Witte, Medicare-For-All
Visit www.qcdemocrats.org and Our View of the Nation blog.