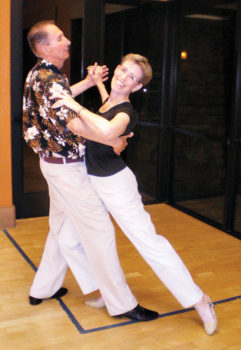 Residents Steve Otrosa and Pat Fluhrer rarely need chairs at the Quail Creek dances. They know how to dance to a variety of music and burn off calories from the excellent food served prior to the dances. Be like Steve and Pat!
Book a private dance lesson (one person or one couple) or a semi-private lesson (two or more couples) with certified instructor, Kathi Bobillot.
Choose from Ballroom (Foxtrot, Waltz, Tango); Latin (Salsa, ChaCha, Rumba, Samba, Mambo, Merengue); Swing (East Coast – Single Time and Triple Time, West Coast); Country (Texas 2 Step, 10 Step, Cowboy ChaCha) or Club Style (4 Count, Hustle, Nightclub 2 Step).
For rates and more information, contact Kathi at [email protected], 520-777-7077 or www.2LeftFeat.com.