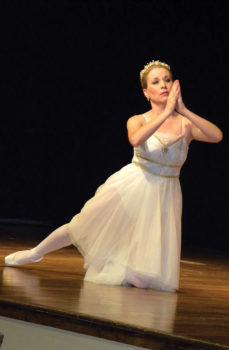 Diane Quinn
Twenty-four performers from Green Valley's own Ballet Continental danced for the November program of The Women of Quail Creek. The performance included 10 excerpts from The Nutcracker. The TWOQC event served as a warm-up to the company's upcoming holiday performances. As an added treat, Darby Downs danced Prayer, from Act III of Ballet Continental's recent performance of Coppelia.
Ballet Continental was first started in 1985 to help foster and develop a performing group for aspiring dancers. Ranging in age from 12 through adult, the members of the company come from throughout southern Arizona, including Tucson, Sahuarita, Green Valley, Amado and Tubac. Artists audition for each performing season so that they may become aware of the professional selection process.
Through its professional process of challenging dancers and performers, Ballet Continental has been recognized statewide. Lisa Baker DiGiacomo serves as Artistic Director and is in charge of rehearsing, casting and producing all performances. Additional information about Ballet Continental is available at balletcontinental.com.