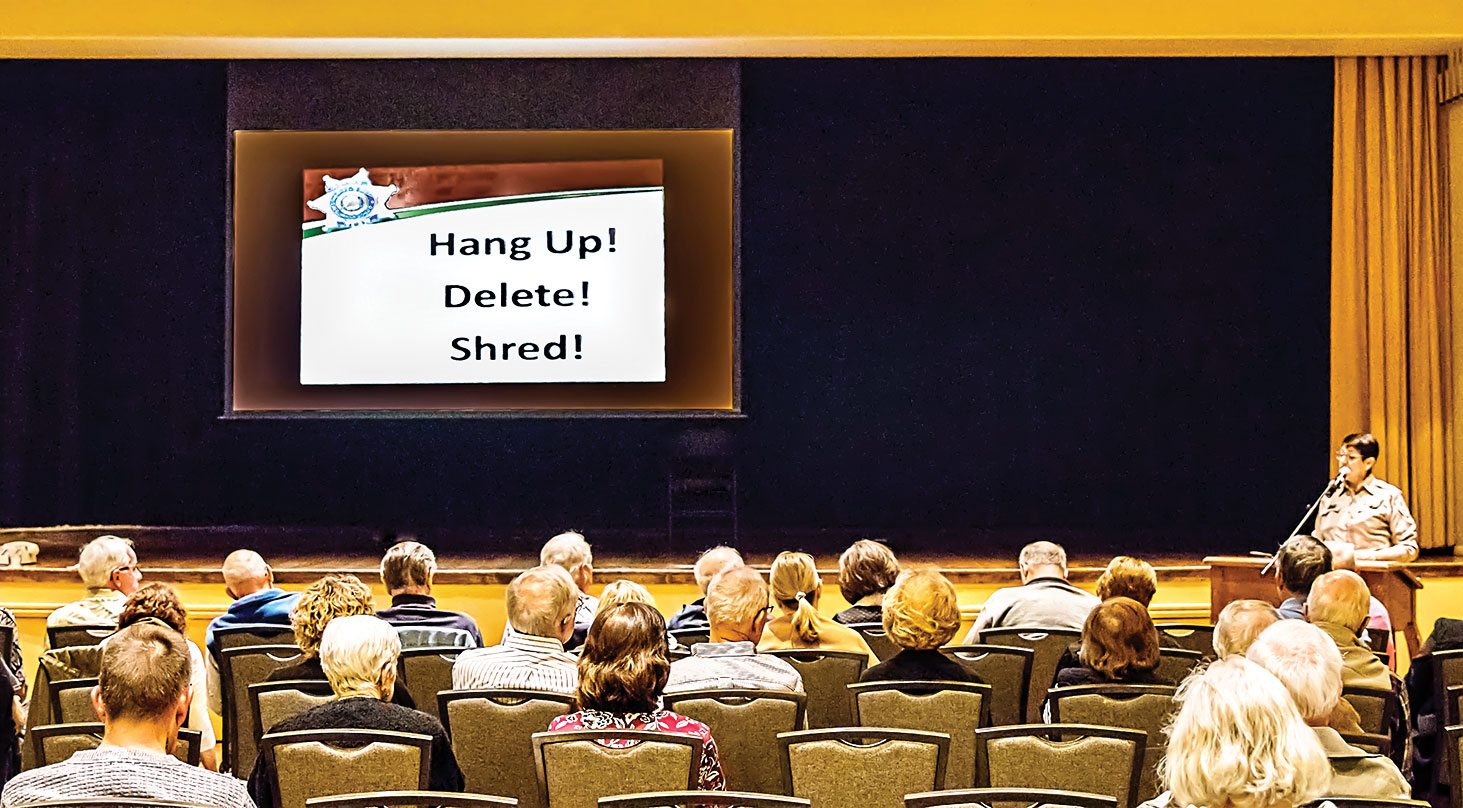 Jim Burkstrand
On March 20 the Quail Creek Computer Club held its monthly meeting. After a short business meeting led by President Harold Baker, Sylvia Bencomo, the manager of the Scam Squad for Green Valley Sheriff's Auxiliary Volunteers, presented a talk entitled Scams: What to be Aware Of. This meeting and presentation were well attended.
Sylvia presented a series of short stories, all real and collected from people who have given permission to tell their stories. Their names were not used. These stories were intended to make us aware of the scams making the rounds in our neighborhoods. This is also tax season, and with it comes scams. IRS scams were also addressed. It was emphasized that the IRS does not call people. So, if you receive a call from someone claiming to be from the IRS and wanting money – hang up. We were encouraged to report scams and suspicious email or US mail that you receive to the Scam Squad.
The Sheriff's Auxiliary Volunteers (SAVs) are a nationally recognized, award-winning organization comprised entirely of volunteer citizens. The SAVs support residents of Pima County living in unincorporated areas encompassing 9,241 square miles in Tucson, Green Valley and Ajo. The Sheriff's Auxiliary Volunteers on the Scam Squad work with commissioned deputies to help the Citizens of Pima County overcome the schemes of financial predators. The Scam Squad works together with the community to empower individuals to combat fraud through awareness, education and interaction.
The next general meeting of the Computer Club, open to all residents, will be April 24 at 7:00 p.m. in the Madera Ballroom. Kathy Konecny of the Joyner-Green Valley Library will give a presentation which will make us aware of all the library services and resources that we can access electronically.
If you are interested in learning more about the Computer Club, go to our website at quailcreekcomputerclub.org and click on the General Info tab. To see a calendar of current classes, click on the Education tab. To speak to someone about the club, come to the lab in the CATC building during Open Lab hours (which are listed on the website calendar). Dues are the same for one family member or two; only $20 per household for the calendar year.